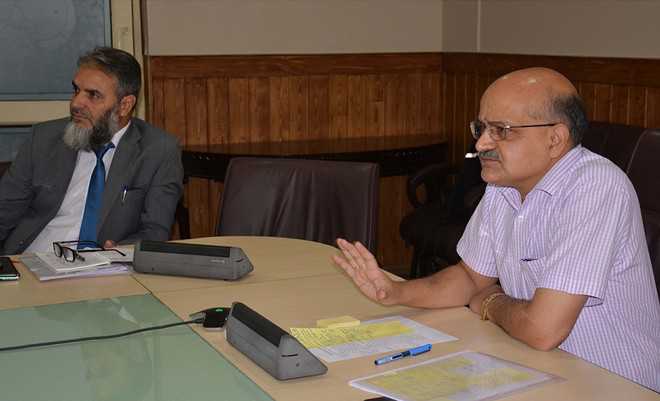 editorial@tribune.com
Tribune News Service
|Jammu, September 10
The Central government has rolled out a Special Market Intervention Price Scheme (MISP) to procure nearly 12 lakh MTs of apple produced this season in the Kashmir valley. The fund requirement for the scheme has been estimated at Rs 8,000 crore.
Chief Secretary BVR Subrahmanyam chaired a video conference meeting with Deputy Commissioners (DCs) of the Kashmir Division to discuss the scheme for growers in Kashmir on remunerative prices.
It would be for the first time in the history of J&K that such a special scheme is being introduced wherein nearly 60 per cent of the estimated annual apple production, which last year stood at 20 lakh MTs, will be procured from the apple growers nearer their doorsteps.
As per the statement issued by the government, the scheme is expected to enhance the income of the growers in the Kashmir valley by about Rs 2,000 crore. The period of procurement would be from September 1 to March 2, 2020 (six months).
Under the scheme, the Union Department of Agriculture and Cooperation and the National Agriculture Cooperative Marketing Federation of India (NAFED) will procure apple in J&K from the growers/aggregators so as to ensure remunerative prices for the apple crop.
The apple will be procured from the growers/aggregators at fruit mandis situated in Sopore (Baramulla), Parimpora (Srinagar), Shopian and Batengo (Anantnag).
Committees to be constituted
The government will constitute a state-level price fixation committee for fixing the procurement price of the A, B and C grade apple.
Quality control-cum-grading committees will be constituted for each mandi.
Payments will be made through the DBT mode directly into the bank accounts of the growers within 48 hours.
The DCs were directed to make assessment of the requirement of actual number of trucks for transportation.
The Chief Secretary directed the Divisional Commissioner, Kashmir, to review the arrangements at four nandis for the scheme.
Cities