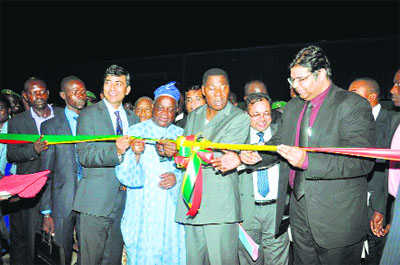 Deepak Vohra
In December 2014 women ululated and men cheered as President Boni Yayi of Benin inaugurated an Indian-built tractor plant. We do not need white elephants, an official commented, our need is basic. He marvelled at the cost-effectiveness of the plant, remarking that a similar European factory would have cost three times as much.
With a $15 million soft loan from India, the plant was built in record time by the $300 mn Angelique International Ltd, India's leading EPC (Engineering, Procurement and Construction) Company in Africa with a footprint across 27 African countries. What does this represent in India's intensifying engagement with a resurgent Africa?
Dark Continent's Indian diaspora
According to the Periplus of the Erythraean Sea, written in the first Century AD, and other writings, intrepid Indian sailors were in regular touch with the East coast of Africa for centuries. The formal end of slavery in 1833, marked the beginning of the Indian diaspora in the "Dark Continent" through the "indentured" labour system. Within a few years, over 3.5 million Indians had been transported to build the Kenya-Uganda Railway and to work on plantations.
The first mention of Africa in Chinese sources is in the ninth century. The redoubtable Chinese admiral Zheng He of the Ming dynasty rounded the coast of Somalia in his massive warships in the early 15th century and sailed to Mozambique, calling at ports to demonstrate Chinese naval strength, looking for tributary states.
The Chinese connection
Modern Chinese relations with Africa date to the 1950s, when it supported liberation movements as part of an ideological thrust. In the collective African consciousness, India is an ancient friend, a reliable trading partner and a welcoming nation where thousands of Africans went. China appears as a Johnny-come-lately, flexing its muscles (somewhat like 19th-century Europe).
In the 1980s, African nations, in severe economic distress, adopted the so-called Washington consensus of open markets, political and trade liberalisation and privatisation. Hardly any succeeded by copying Western developmental models. The World Bank/IMF gave advice aplenty, but there are still few roads or schools or hospitals.
African pride
The long-serving highly respected President of the Republic of Congo speaks about the disastrous impact of dismantling the state agency for agricultural products under World Bank insistence. His country, once known for its magnificent coffee, now imports it! Honour and self-respect are powerful determinants of the African personality. Tired of Western arrogance and hectoring, African leaders rushed to embrace Indian and Chinese money. They show up in large numbers at the triennial China-Africa summits. The Chinese trade-off between spectacular growth and political freedoms seemed attractive to a Continent where the "Big Man" is a historical figure.
Over 2,000 Chinese companies do business in Africa, most are state-backed "private" firms in the infrastructure, energy and banking sectors. Almost two million Chinese work there, happy to have more space in an underpopulated continent.Unconditional low-rate credit lines (at 1.5 per cent over 15-20 years) have replaced restrictive Western loans. But China's huge profile in Africa brings intensified scrutiny.
China vs West
Peeved Western officials criticise China's no-questions-asked cheque-book diplomacy for ignoring human rights, good governance and environmental issues. Even supporters of free markets cite studies to show that low-cost Chinese-made products damage local African industries. Many Africans see Chinese-owned shops, restaurants and small businesses threatening indigenous entrepreneurs. And the Chinese do not intermingle. Faced with rising anti-Chinese sentiments in Africa, in May 2014 Premier Li Keqiang advised Chinese workers to "abide by local laws and respect local traditions", strangely recalling Jawaharlal Nehru's 1950s advice to the Indian diaspora to integrate with local communities.
Seeing them as rapacious and insular, ordinary Africans prefer to keep Chinese at arm's length. The romance is fading.
Unfair business practices
In the 2006 Zambian presidential election, the losing candidate (he won later and died in office) lambasted Chinese business practices. In 2010, Chinese executives at a coal mine shot and injured several Zambian workers protesting low wages, long hours and poor safety. Similar protests have taken place in Sudan, South Sudan, Angola, Lesotho, Guinea and Mozambique. Ghana has expelled dozens of "illegal" Chinese.
In March 2013, Nigeria's central bank chief, Lamido Sanusi, warned Africans to recognize the true nature of their "romance with China" that "takes our primary goods and sells us manufactured ones... the essence of colonialism". Writing in the Financial Times, he criticised Africa for embracing "a new form of imperialism" and said bluntly "we must see China for what it is: a competitor."
A few weeks ago, South Sudan was full of reports of a letter forged by a Chinese company to extract concessions from the Government. The Chinese Ambassador apologised.
When South Sudan separated in 2011, taking most of the oil, China cancelled a huge oil-backed loan promised to Khartoum for a power project. In 2013, Botswana's president Ian Khama told a South African newspaper that Chinese companies had let down his country, particularly over a power-generation project. Khama added that other African leaders shared his concerns. When economies falter and unemployment rises, the foreigner is the usual scapegoat, especially if sheer numbers, high visibility and economic domination are evident. Idi Amin's 1972 expulsion of Asians is fresh in African minds.
Senior Africans privately and publicly complain about the condescending attitude of Chinese officials. Some years ago, after listening to a provincial Sudanese Governor, the Chinese Ambassador, in a charming display of Han conceit, commented that even a small-town mayor in China could do better.
Though Chinese soft loans remain attractive (Beijing's quick decisions contrast with New Delhi's more cautious approach), there is awareness of the hidden costs. Indian companies compete furiously for projects funded by Indian credits, often quoting just-above-cost prices. The Chinese system determines the implementing agency in advance and then makes sure that its quotation is the "lowest" among several inflated offers.
Renegotiating contracts
The Chinese-funded multi-billion dollar Millennium Dam in Ethiopia is cited as an example: the per-megawatt cost is at least twice that in India or China itself.
And these loans have to be repaid. Several African nations are renegotiating their oil contracts with China, seen by successor governments as one-sided.
As the push back against China's greed intensifies, African officials openly express their preference for Indian partners. India is respected, China increasingly suspected.
China has overplayed its card. An African Prime Minister said recently: "Africa and China are becoming a bit tired of each other: we want much more of India." This is good news for India's trade with Africa, which at $70 bn in 2013 is a third of China's (the latter is dominated by oil, ores and minerals). Language is not the only issue. "We have interacted with Indian communities in our midst for two centuries", says a senior official of the African Union, "we understand each other's ethos perfectly. Indians talk to us, not down to us". African leaders want more investment in labour-intensive sectors, angry that Chinese companies do not hire locals. Africa's population is growing faster than anywhere else in the world. Without jobs, a large population of frustrated, unemployed youth beckons. The African spring has begun in Burkina Faso.
India's role in helping with food security, capacity building and human resource development in Africa remains unparalleled. Since 1964, the Indian Technical and Economic Development (ITEC) programme has trained tens of thousands of Africans. Some have risen to the highest levels in their countries and are well-placed to exploit Africa's fortuitous combination of demographics, education and communication technologies to break its perennial poverty and underdevelopment.
Private Indian investment in Africa over the last half century has been in telecoms, agriculture, the automotive industry and education. Indian companies hire and train local people.
Richest nationals
In at least 17 African countries, the five richest nationals include at least one businessman of Indian origin.
Bharti Airtel Ltd's $9-billion purchase in 2010 of Kuwait's Zain Telecom in 15 African countries and ONGC Videsh Ltd's $5.1-bn acquisitions in Mozambique for deep-water well drilling have reinforced the India connection. The India-funded and implemented pan-African e-network providing tele-education, telemedicine and VIP connectivity is much talked about.
As the Chinese economy slows, reducing its appetite for African commodities, Africa re-awakes to the advantages of partnership with India, whose inclusive developmental model appears much closer to the African ubuntu ethos. India funds projects with substantial "bread-and-butter" impact, not dubious prestige behemoths.
Despite ample land, people and water, 44 of sub-Saharan Africa's 49 countries are net food importers. Every African leader wants to replicate India's Green Revolution.
In Lesotho, a tiny mountain kingdom that I am privileged to serve, an Indian-owned company has leased large tracts of land for food-grains and biomass to generate electricity creating hundreds of jobs. The Prime Minister says: "This is just the beginning, let many Indian companies come".
Reflecting his own insecurities, a senior Western diplomat in South Sudan, resigned to his country's isolation in Africa, told me that he preferred to see Indians rather than Chinese.
Every flight from Africa to India is packed with ailing Africans. They go back praising our affordable medical care.Thousands of Africans prefer cost-effective education in Indian Universities to their over-priced Western counterparts. China is yet to make a dent in these areas. India is intensifying the political and commercial dialogue with Africa. Several Heads of State are expected at the Summit with India in 2015,
The century of India in Africa has begun again.
The writer, a former Indian Ambassador, has served in several African nations.
All readers are invited to post comments responsibly. Any messages with foul language or inciting hatred will be deleted. Comments with all capital letters will also be deleted. Readers are encouraged to flag the comments they feel are inappropriate. The views expressed in the Comments section are of the individuals writing the post. The Tribune does not endorse or support the views in these posts in any manner.