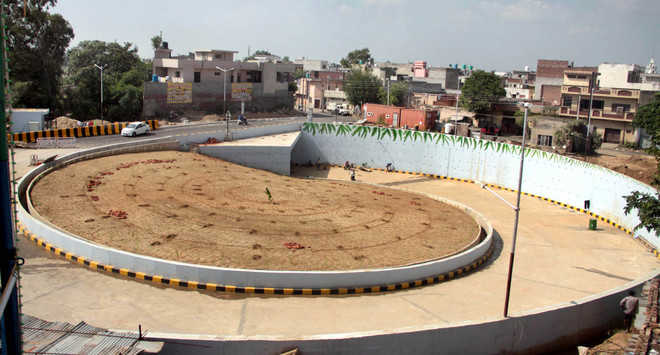 editorial@tribune.com
Deepkamal Kaur
Tribune News Service
Jalandhar, September 27
Having been proposed by the Municipal Corporation (MC) since August 2010 and remaining mired in various controversies pertaining to land acquisition for nearly five and a half years, the much-awaited Chandan Nagar Railway Under Bridge (RUB) will be finally opened tomorrow afternoon.
Chief Minister Parkash Singh Badal is slated to attend the inauguration function. Hoardings were put up across the entire city today by Jalandhar (North) MLA KD Bhandari taking credit for getting his election promise fulfilled well in time. Bhandari had, twice in the 2007 and 2012, made this underbridge his poll agenda like former minister and his Congress rival Avtar Singh Henry.
However, the delay and change in plans cost the MC dear. The project for which Rs 8 crore estimates were made in August 2010 was later proposed to be of Rs 21 crore and then Rs 41 crore at the time of Bhoomi Pujan two years ago. As it has got accomplished now, Mayor Sunil Jyoti today said that the overall cost had come to Rs 45 crore now.
The MC had got the work done through the PWD. The total construction time of the bridge had been fixed as 14 months initially by which the work was to be done by the end of October 2015.
The bridge has a height of just 3 metres and will be used only for the passing of light transportation vehicles. The construction of ramps, streetlights, maintenance and pumping out of rainwater has been done by the Jalandhar MC. Residents of nearly 50 colonies, including Sodal Area, Industrial Area, Preet Nagar, Dada Colony, Globe Colony and Shiv Nagar which fall on the other side of the railway crossing, will be benefited with the opening of the bridge. Their passage gets closed as many as 120 times a day owing to the frequent passage of trains between Jalandhar and Amritsar.
Students of Shiv Joti Public School, Seth Hukum Chand School and SD School, which fall on either side of the track, were also much affected. Quite a few accidents have taken place at the crossing in the recent past, especially around Sodal Mela during which there is much rush across the crossing site.
TIMELINE
August 2010: MC plans construction of Chandan Nagar RUB, makes an estimate of Rs 8 cr
January 5, 2011: A resolution regarding its construction passed in the MC House
January 19, 2011: Local Bodies Department approves the resolution
September 27, 2011: Land Acquisition Collector asks MC Commissioner to deposit an amount of Rs 16.38 lakh for acquisition. No funds transferred owing to paucity
April 9, 2012: PWD asks MC to deposit an amount of Rs 8.64 lakh with the Railways for the span portion
August 23, 2013: Land acquisition notification lapses, making the local BJP leaders tizzy. Bhandari rushes to Chandigarh to get it revoked and seek grants for the project
November 18, 2013: District Land Price Fixation Committee headed by DC finalises Rs 5.1 lakh a marla compensation for the acquisition of the 10 kanal 19 marla land. The land included two godowns and the playground of SD Devi Sahai School. LAC seeks an amount of Rs 16.76 crore from MC Commissioner
November 19, 2013: SE of B& R seeks the amount from Secretary Local Bodies and GM PMIDC
December 4, 2013: Objections raised by land owners. The acquisition amount raised to Rs 18.12 crore. MC arranges for the extra amount from its side
December 16, 2013: Compensation of Rs 18.12 crore released to land owners for acquisition
August 26, 2014: Bhoomi Pujan and start of construction
October 2015: Deadline initially fixed for completion of project
September 28, 2016: Formal opening to be held