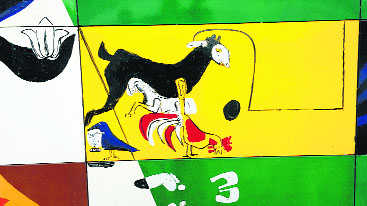 Harish Khare
Last Sunday, I was able to have full appreciation of that marvellous piece of architectural beauty, the Capitol Complex in Chandigarh.
As it happened, I was made an offer I could not possibly refuse. Rajnish Wattas, former principal of the Chandigarh College of Architecture and landscape expert, had proffered that if I could take two hours out of my busy schedule, he would give me a guided tour of the Capitol Complex. My wife and I took Professor Wattas up on his proposal.
And what a privileged treat my wife and I had. As a lifelong student of Le Corbusier, Professor Wattas could decode the enigmatic thoughts and designs of the great architect in visualising the Complex.
Under his gentle guidance, one could see and appreciate what Le Corbusier attempted and achieved. The juxtapositioning of the three imposing buildings — the High Court, the Secretariat and the Legislative Assembly — represents the ideal of democratic balance.
It was also evident that the upkeep of the Complex was not up to the mark. There is obvious lack of interest, resources and, more importantly, pride in maintaining the Complex.
As we listened to Professor Wattas' discourse on the hidden nuances and grand themes in Le Corbusier's imagination of Chandigarh, I could discern in him a passion becoming of a city father.
I subscribe to a certain elitist view that every city needs a body of men and women who feel dedicatedly and passionately about the city, about how to preserve its historic character, how to maintain its aesthetic purity, how to preserve and protect its values and spirit against that ever-menacing animal — the developer and his cousin, the politician.
When power and initiative pass into the hands of people who do not feel a stake in the city's culture and virtues, they stop caring for the city and, in fact, start depleting its social capital. This is how all cities in India have degenerated into urban nightmares. I grew up in the walled city of Delhi, and can count each and every step how the city lost first its shape and then its soul. The city lost its personality because the traditional elite ceased to count and new 'rulers' did not care.
These days, real estate is a huge multi-billion dollar industry. Even the foreign investor has got into this game. The real-estate wallah is out to make a killing. He has no interest whatsoever in architectural aesthetics or environmental harmony.
Chandigarh is fortunate insofar as its administration is not vested with the political crowd. Mercifully, there are many citizens who feel intensely about the city and are willing to raise their voice at any unhealthy departure. The administrators, too, find themselves having to keep up with the legacy of Dr MS Randhawa.
But I feel as long as Chandigarh has citizens like Professor Rajnish Wattas, the city's heritage and environment would be preserved.
WHAT makes a leader, leader?
I was provoked to meditate on this question because, curiously enough, both the Time magazine and the Financial Times, arguably the world's most respected newspaper, have zeroed in on German Chancellor Angela Merkel as 'Person of the Year'. She simply does not fit our traditional concept of a leader — flamboyant, colourful, outgoing, a shining knight on a white charger. Angela Merkel is determinedly unglamorous, doggedly unflamboyant.
Incidentally, only one Indian has ever made it to the 'Person of the Year' list. Yes, you guessed it — the Mahatma, the one and only.
A 'Person of the Year' choice does not necessarily mean moral approval of a leader's actions and persona. Though in Angela Merkel's case, the choice does carry with it a strong stamp of endorsement of her leadership and values.
So, back to the basic question: what makes a 'leader' a substantive leader at any given time?
To carry out a project — a policy, an idea, an initiative — in the face of difficulties, opposition, lack of resources, to mobilise a society's energies and its capacity for moral good. To take a stand. Openly, candidly.
Leadership is becoming a demanding business, especially in the democratic societies. Increasingly, democracies are becoming a breeding ground for impatience and anger, and a leader's job gets more and more complicated as no national leader is able to have total command over his/her nation's resources and policies and yet finds himself having to answer to a national audience and electorate. In India, I can think of only three leadership moments:
Jawaharlal Nehru from 1948 to 1950. Almost single-handedly, he refused to hand over the country to the post-Partition insanity. The truncated India was angry, unsettled, unsure and unforgiving. It was during those trying months that Nehru never lost faith in himself and, even more, in his capacity to touch and reach out to the heart and mind of every Indian.
The second leadership moment belongs to Indira Gandhi, March 1971-December 1971. Much against her desire and preparation, India got sucked into a crisis in East Pakistan. It was at that time that Indira Gandhi demonstrated that basic leadership quality — a capacity to stand one's ground against overwhelming odds. Despite massive and, at times, provocative noises at home to march into East Pakistan, and despite a very hostile global environment, Indira Gandhi chose her timing, her tactics and her strategy. And saw the whole thing through. That is leadership.
And, then, we had to wait for another 20 years before there was a leadership moment: 1991, when Manmohan Singh, as Finance Minister, forced a reluctant India to give up its ways of thinking about management and control of economy.
Leadership is not to be confused with momentary tricks like winning an election or making demagogic onslaughts. Leadership means, perhaps, bringing about changes whose impact and ramifications remain long after the 'leader' is gone.
A TASTELESS controversy is being worked up over naming Chandigarh's new international airport. The original proposal, from Punjab, was to name it after the legendary hero and freedom fighter, Bhagat Singh. This idea was officially endorsed by Haryana also.
But now it seems that the new government in Haryana wants the airport to be named after one Mangal Sein, a Jan Sangh leader who was Deputy Chief Minister of the state for two years. The Modi government, too, is reported to be in mood to give in to the Manohar Lal Khattar government's preference.
This is an extraordinary proposal, that too from a dispensation that wears its patriotism on its sleeve. To prefer a long-forgotten provincial party functionary over a revolutionary leader, whose martyrdom till this day strikes an emotional chord? I see no reason for the Punjab government to allow itself to be coerced into conceding the Haryana government's petty political demand.
ONE reader, Karthik Venkatesh, who has made his home in Bathinda since 2005, has been very generous. He has translated and sent me a Surjit Patar poem called Kavi Sahib.
Along with his wife, Venkatesh runs a rural school in the Bathinda area. He believes that the poem is relevant in, what he calls, "these censorious and tumultuous times".
O Poet!
I write the first line
and strike it off!
Fearing the King
and his soldiers.
I write the second line
and strike it off!
Fearing guerilla revolutionaries.
Fearing for dear life,
thus have I struck off
thousands of my own lines!
The souls of these perished lines
hover around me
and ask me,
O Poet!
Are you a poet or a murderer?
Oft have I heard
that lawmakers throttle justice,
that religion is butchered
by protectors of the faith.
In our times,
in fear, poets murder their poetry.
This I hadn't heard
And now I have

Who's joining me for coffee?

kaffeeklatsch@tribuneindia.com
All readers are invited to post comments responsibly. Any messages with foul language or inciting hatred will be deleted. Comments with all capital letters will also be deleted. Readers are encouraged to flag the comments they feel are inappropriate. The views expressed in the Comments section are of the individuals writing the post. The Tribune does not endorse or support the views in these posts in any manner.