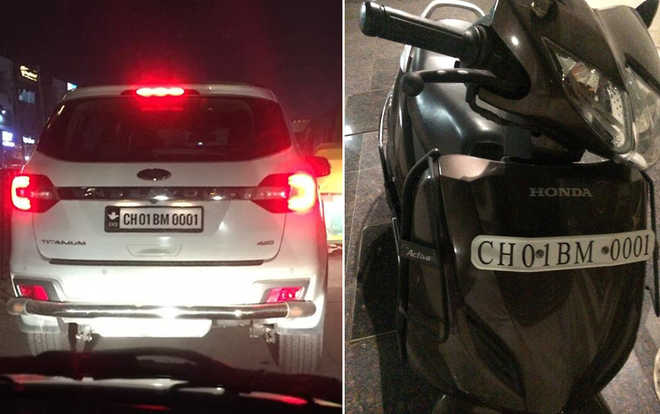 Ramkrishan Upadhyay
Tribune News Service
Chandigarh, October 17
Strange it may sound but the owner of an Activa has filed a police complaint against the owner of a Ford Endeavour for using the vanity number CHO1BM 0001, which belonged of his scooter.
Rohit Gupta, a resident of Sector 46, had bought the number for Rs 2.20 lakh in an auction held by the Registering and the Licensing Authority, UT, on May 20, 2017.
Gupta said he had been using the number on his scooter for the past two years. He said he was surprised to see an Endeavour in Zirakpur using the same number last night.
The complainant stated that when he confronted the SUV driver, he escaped from the spot. Gupta has asked the police to identify the owner of the SUV.
Fond of owning luxury cars with vanity numbers, Gupta already owns three vehicles with the number 0001. He had bought the three vanity numbers in online auctions conducted by the Punjab Government.
The value of the vanity number is five times the scooter's worth.
Gupta said he was planning to purchase a new car and would get the number transferred to it. A realtor by profession, he had launched a housing scheme in Dera Bassi and Zirakpur.