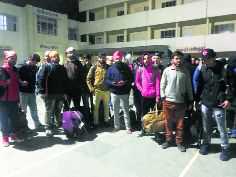 Amarjot Kaur
Tribune News Service
Mohali, February 20
As on Wednesday night, more than 300 Kashmiri students, who had sought refuge in Gurdwara Sahib Singh Shaheedan in Sohana and Mohali's Gurdwara Sacha Dhan, have been safely ferried to Jammu.
Narrating the tales of horror they faced in their own country, most of these students arrived at Sikh shrines famished and frazzled. Even on Wednesday, Khalsa Aid volunteers reported the arrival of 30 Kashmiri students from not only Dehradun, but also from Ambala and Raipur.
While their billeting was accommodated by former SGPC member Amarinder Singh, non-profit organisation Khalsa Aid arranged for their commute till Jammu.
Gurpreet Singh, a volunteer from the organisation, shared that he has been flooded with 'thank you' messages and the gratitude had strengthened the organisation's resolve to help the community even further.
"Today, 30 more Kashmiri students, all men, arrived from Ambala, Raipur and Dehradun. Girls too have reached Jammu safely," he said.
On Tuesday, the organisation had arranged flight tickets for four Kashmiri girls who reached Gurdwara Sacha Dhan on Monday evening from Dehradun.
"Though we cannot get flight tickets for Srinagar, we sent them to Jammu by air where they were received by their parents," he said.
When asked, the students shared that the reputation of Mohali's warm hospitality had travelled to Kashmiris residing in different cities across India.
Shabir Ahmad, 23, from Panchkula Engineering College, Raipur Rani, said: "It was from the word of mouth and the social media that we came to know of Khalsa Aid and rushed here. We cannot step out from our rooms for five days and even when we did, we were greeted by probing stares. Also, my parents in Kashmir were scared after looking at the videos of Kashmiri students being beaten up. So, we decided to go back."