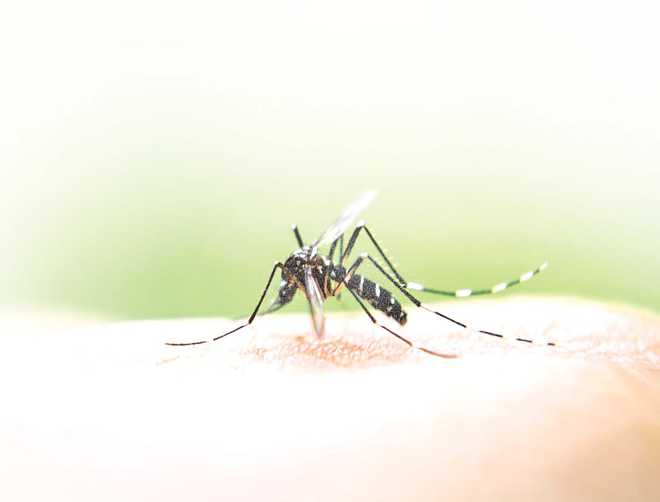 Tribune News Service
Mohali, November 13
Dengue cases in Mohali district have reached a record high this year. As many as 2,253 cases have been reported so far, the highest in the past eight years. Of the 10 suspected cases of dengue deaths, four have been confirmed. In Mohali city, the number of cases has crossed the 1,000-mark.
Dr Avtar Singh, epidemiologist, Civil Hospital, Mohali, said the maximum cases had occurred in Mohali city followed by Kharar and Nayagoan.
Singh said the maximum cases were reported in October. "The reason is favourable climatic conditions for the breeding of mosquito aedes aegypti," said Dr Singh.
He added that people had failed to take appropriate preventive measures. "People have been irresponsible. Most cases of mosquito bite take place in houses. People do not change the water in their coolers and fridge trays regularly, resulting in the spread of dengue larvae," he said.
---
The stats
As per data from the Health Department, in the past two years, dengue cases in the district have increased at an alarming rate. In 2009, only five cases were reported. The following year, 89 cases were reported and in 2011, the cases reduced to 16.
The see-saw (alternating) trend continued in 2012 when 232 cases were reported followed by 80 cases in 2013 and only two cases in 2014.
In the past three years, however, the cases have increased at an exponential rate with 532 cases in 2015, 2,088 cases in 2016 and 2,253 so far this year.
In the past three days, as many as 35 cases have been reported due to a slight dip in temperature.
Top News
Says the meltdown of Adani Group would not impact country's ...
The regulator says committed to ensuring market integrity; m...
Appointments come amidst strong observations by a Supreme Co...
Firm exported two consignments of 24 batches of the allegedl...
Over 100 members of 19 families were evacuated after their h...