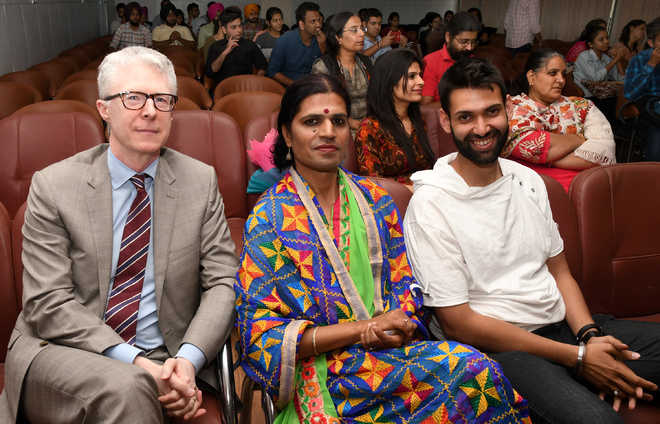 Bhartesh Singh Thakur
Tribune News Service
Chandigarh, March 12
It is the inspiration by Canadian PM Justin Trudeau that is behind the all out support to transgender events in Chandigarh and Punjab by the office of the Consulate General of the maple leaf country.
For the past one year, the Consulate General of Canada in Chandigarh has been one of the major sponsors of events, workshops and seminars.
At the 'Pride Week' celebrations at Panjab University (PU), Chandigarh, today, Consul General of Canada Christopher Gibbins said, "For the past one year, we have been working with Dhananjay Chauhan (a transgender student from the Department of Human Rights and Duties of the PU). LGBT rights are fundamental part of human rights. PM Trudeau is vocal, particular and forward looking on this issue. All of us deserve to be free and should be able to express our feelings."
Dhananjay has been a founder of Saksham Trust, an NGO, instrumental in formation of the Transgender Welfare Board in Chandigarh and fought for toilets and hostel facilities for transgenders at the PU. He is first transgender to have enrolled at the university. During the recent visit of Trudeau in February, Dhananjay was invited for a dinner with him.
It was during a play on LGBT rights at the British Council Office in January 2017, Dhananjay came in contact with the Consulate General of Canada in Chandigarh.
Gibbins said Canada had passed a bill in June last year which made it illegal to deny services, employment to individuals based on their gender identity and gender expression. Canada had introduced the third gender option in passports in 2017 and became fourth country in 2005 to allow same sex marriages, he said.
In 1960, the Canadian Bill of Rights was introduced which was supplemented in 1982 by the Canadian Charter of Rights and Freedoms, which prohibits discrimination based on sex.
In 1995, the Supreme Court of Canada ruled that decimation on ground of sexual orientation was not allowed as per the Canadian Charter of Rights and Freedoms. In Canada, people had been asking and demanding equal rights, Gibbins said.
"We have a PM who strongly believes in the LGBT rights…," added Gibbins. PM Trudeau had on November 28, 2017, apologised for discriminatory treatment of LGBT community in the past.
'Had our families supported us, we would have conquered the world'
"Had our families supported us, we would have conquered the world," said Simran (25), a transgender and fourth-year engineering student of Punjab Technical University (PTU). Simran is from Pathankot and left home at the age of 14. "I had just Rs 18 with me when I left my house. I am 25 now. I know how I have spent 11 years." "I am first transgender student of the PTU. When I was filling the form, there was no column for me as it mentioned just male and female. I struck off those columns and wrote transgender." Before enrolling in BTech, Simran did a diploma in engineering. "I was doing diploma in computer science. But my teachers told me to choose some other field like fashion designing. But I chose mechanical engineering and topped it." "In the college, when I used to come in the morning, other students used to stare at me. I used to keep sitting in the class till 5 pm. I didn't even go to washroom. When college gets over, then I used to go to the washroom." A beauty contest was organised in Simran's college and she had to press for including her name too. "I won the best beauty award. Make up is made for our community. But our life is devoid of colours. Our family members used to disown us," she added. She lives on money from households which is donated on the birth of sons.