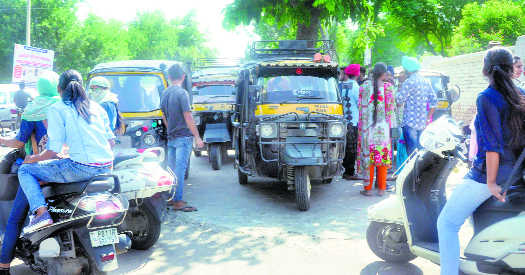 Mehak Kaur Narwal
Patiala, September 10
If you encounter wrecked roads, unmanned directionless traffic, vehicles parked along roads, you are rightly traveling through the vicinity of royal city. Further auto-rickshaws parked haphazardly near the bus stand and other parts of the city are adding to the traffic problem.
However, notwithstanding the traffic rules, reckless driving and wayward parking by auto-rickshaws in the city is a major issue which has added to the woes of city residents. This menace continues across the city even as traffic policemen look helpless. The growing number of auto-rickshaws has become a cause of concern as it is adding to air pollution and resulting in shrinking road space.
In July, 2009, the Punjab and Haryana High Court, in a civil writ petition (CWP), had banned the registration of diesel auto-rickshaws within the limits of the Municipal Corporations of Amritsar, Ludhiana and Jalandhar. However, as Patiala city was not included in the orders, the diesel auto-rickshaws continued to be registered here.
Traffic jams could be seen often near the bus stand, railway station, Kali Mata Mandir, Gurdwara Dukhniwaran Sahib, Thapar University as well as Punjabi University where the construction work of an over bridge is in progress.
"Due to reckless driving and abrupt stoppages of these autos, several accidents takes place on regular basis," said, Niharika Arora, a resident of Joginder Nagar.
Due to negligence of the police and poor implementation of law and order, these auto-rickshaw drivers hardly follow any rules and stop anywhere in the middle of the road to get a passenger.
Shefali Gautam, a city resident, said the auto-rickshaws ferry passengers in access numbers, especially schoolchildren, posing a great threat to their lives. Traffic in-charge Karnail Singh said they were regularly challaning and warning such auto-rickshaws who were flouting norms but many of them continue to ignore warnings. "We will call their union members for a meeting and warn them to follow traffic rules or their vehicles will be seized", he said.
Top News
The survey said the pace of price increases is not high enou...
81-year-old is currently lodged in a Jodhpur jail, where he ...
Was addressing the joint sitting of both Houses of Parliamen...
Baljinder Singh and Harpreet Deol Both are Pentecostal pasto...
135 people were killed in last year's suspension bridge coll...