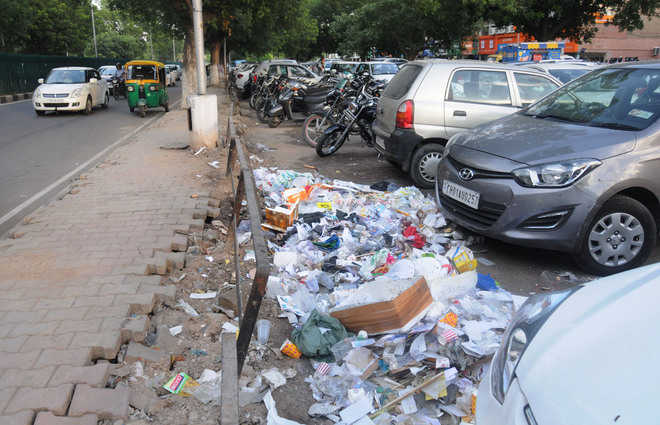 Tribune news service
Chandigarh, July18
The Municipal Corporation will from teams of sanitation workers to fine those who throw garbage at public places.
MC Joint Commissioner Manoj Khatri said the MC was yet to get a copy of the notification approved by the UT Administration. "Once we get the notification, we will implement it," he said.
The teams will be formed which will issue challans to the offenders. Amending the 1999 bylaws, the UT Administration on Monday notified the Municipal Corporation (Sanitation and Public Health Amendment Bylaws, 2017), which came into force with immediate effect.
At the House meeting held in May this year, the corporation decided to impose a fine of Rs 5,000 for residential and Rs 10,000 for commercial establishments for littering garbage at the public places.
According to new bylaws, a defaulter will be charged for the removal and disposal of waste at the rates decided by the MC. In case of non-payment of charges, the same will be added to the water bill of the defaulter. Officers said the heavy penalty had been proposed to make it deterrent for habitual offenders. Under the existing sanitation rules, the MC was levying Rs 500 which hardly bothered the violators and they continued to litter.
Top News
The girl was found bleeding on a road in Ujjain on Monday
No vendetta politics, says AAP
Bajwa said a kidnapping case should be registered against th...
Blinken is due to meet Indian Foreign Minister S Jaishankar
The celebrated agriculture icon was being treated for age-re...