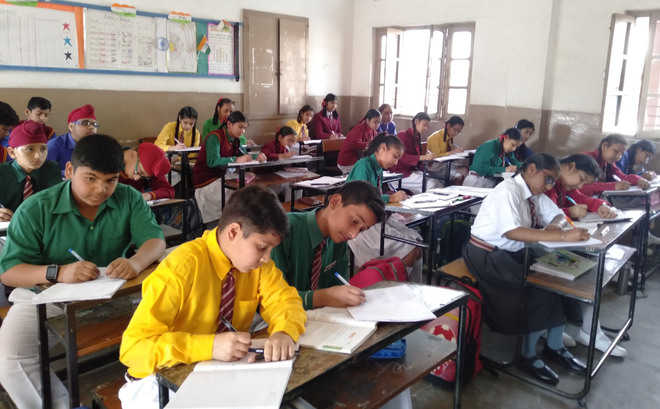 Naina Mishra
Tribune News Service
Chandigarh, October 23
The Central Board of Secondary Education (CBSE) chairperson, Anita Karwal, has instructed CBSE officers to analyse and provide the data of private schools in the city reflecting their performance in various subjects.
However, the board has not received the data of private schools till date.
A meeting was held by the Education Secretary on October 9 for reviewing the status of Programme for International Student Assessment (PISA) activities regarding meeting held on August 16, under the chairpersonship of Karwal.
It has been now been decided that the District Education Officer (DEO) will write to the Regional Office of CBSE, Chandigarh, regarding the requisite information from the private schools.
The DEO will also issue directions that the school principals will be nodal officer for PISA and they will designate four subject nodal officers for coordinating with teachers regarding PISA preparations. In case the principal retires before 2021, a co-nodal officer will be designated. A school-wise plan will be prepared by school principals, along with student-wise plans keeping in mind the strengths, challenges and remedial measures at school level.
Besides, the board has suggested that the methodology adopted by Indian Certificate of Secondary Education (ICSE) in teaching of languages may be studied and capitalised upon.
CBSE to monitor PISA progress via app
The board will also prepare an app for monitoring the teacher and student preparedness for PISA in Chandigarh with the help of assessment tools prepared by the State Council of Educational Research and Training (SCERT). Expert groups have been requested to provide indicators for app for monitoring the teacher and student preparedness.
Edu Dept to review 3-year progress of CWSN
To prepare students for the triennial survey programme for International Student Assessment (PISA), the Children With Special Needs (CWSN) will now be identified in all schools of the city for reviewing their performance over the last three years. The matter will be expedited at Education Department level under the supervision of Directorate of School Education.
Dept awaits PISA funds
During the meeting with CBSE on PISA, the board had said that it will take up the matter of the release of funds with the MHRD.
Under the review meeting of PISA, it was disclosed that funds have not been received till date. The Education Department Chandigarh has advised to take up the matter with the ministry. Besides, materials developed on experiential learning like concept maps etc, are awaited from the board.
Competency-based practice session in Dec
A practice session based on competency-based questions will be prepared by the CBSE and will be undertaken by the SCERT
The next such session will be conducted in December. The final practice session will be conducted before the board examinations in February 2020
The first practice session was held on October 16 and the scores of students will be uploaded on the portal created by the CBSE by October 25
Top Stories