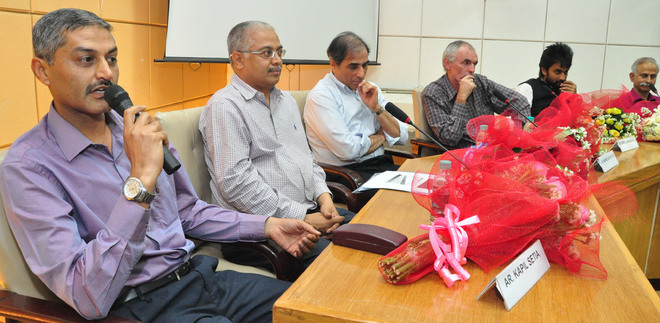 Tribune News Service
Chandigarh, April 11
At present, Chandigarh is not ready to become a smart city as the existing complicated policies, lack of coordination between the architecture and the engineering departments and policies prepared without any vision are the biggest challenges, which the UT Administration face in fulfilling the dream project of Prime Minister Narendra Modi. There is also a lack of planning for proper energy and water utilisation in a smart city like Chandigarh.
Experts were too much concerned over these issues during a panel discussion on "Chandigarh as smart city" held at the College of Architecture here today.
On one side, R Srinivas, representative of the Union Ministry of Urban Development, and Head, Metropolitan and Union Territories Division, was hopeful that the guidelines for the smart city will be approved by the government soon and work to develop 20 cities will be commenced to provide better lifestyle to its residents.
He said the Prime Minister had instructed all states to develop a speedy clearance process for the early commencement of projects in the country.
On the other side, Hafeez Contractor, a Mumbai-based architecture, found that "the idea of the smart city was irrelevant as the cities, at present, are in a horrible state. For the next 20 years, this smart city will be a hot topic for discussion, but nothing will be implemented on ground as we are not even able to provide basic facilities such as economical housing, 24-hour water supply, infrastructure and employment for youth in any of the cities".
He said 'free housing to bureaucrats' should be discontinued as it was the right of other residents also who were deprived of the facility due to the non-availability of economical housing.
Contrary to it, Kapil Setia, Chief Architect, Chandigarh Administration, said the authorities were soon going to notify Master Plan 2031 for the city, which would give a vision for the smart city project. He, however, accepted that lengthy clearances and overlapping of policies were a hurdle for any new project in the city.
Expressing concern over the usage of water in Chandigarh, Environment Engineer Eric Janssevne said it was an alarming situation in the city as there was no check on wastage of water by residents. Even air pollution was one of the major causes of concern for the City Beautiful, which was being planned to be developed as a model for smart city.
Pardeep Bhagat, principal, Chandigarh College of Architecture, said Chandigarh was ideal to be developed as a smart city as it was already designed as one of the best cities of the country.