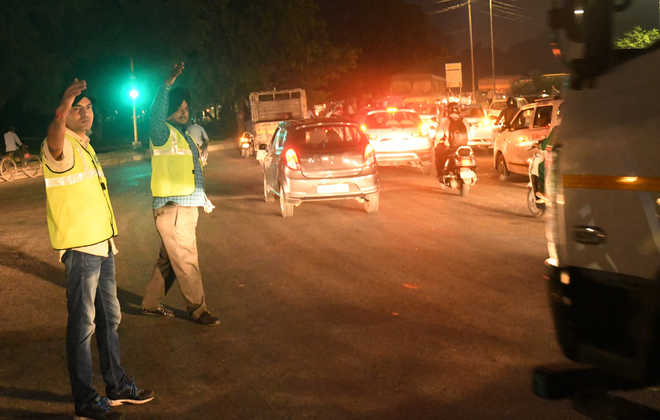 Tribune News Service
Chandigarh, October 15
Witnessing the rising traffic chaos in the city and realising that they can contribute to mitigating the problem in their own small way, a group of city residents, which met through Facebook, has volunteered to offer its services to regulate the traffic in coordination with the UT traffic police.
The group earlier rendered its services on Dasehra in Sector 17, Sector 34, Mani Majra and Dhanas. Today, the volunteers assisted cops on the Tribune Chowk-Zirakpur road.
The volunteers met on the social networking site and created a Facebook page, named Humble Soul Volunteers Chandigarh.
Kanwaljit Singh Kaler, a businessman who is one of the co-founders of the group, said they wished to work on various issues in the city and traffic was among these. "We have coordinated with the traffic police to voluntarily provide the services of our group members," he said. Rajesh Ahuja, one of the volunteers, said at least 12 volunteers assisted the traffic police in managing traffic on the eve of Dasehra. "We were later assigned the task of assisting the police on October 15 and 16 on the stretch between Tribune Chowk and the Hallo Majra light point between 5 pm and 8 pm," Ahuja said.
The volunteers keep their reflective jackets and equipment, which are helpful in regulating traffic, in their vehicles and regulate traffic whenever they find traffic snarls around the city.
Since the festive season is on, traffic snarls in the city will be routine. Different parts of the city, especially the roads opposite sector markets, witness traffic jams due to the festive rush every year. "These volunteers can be of great help at such times," said a police official.