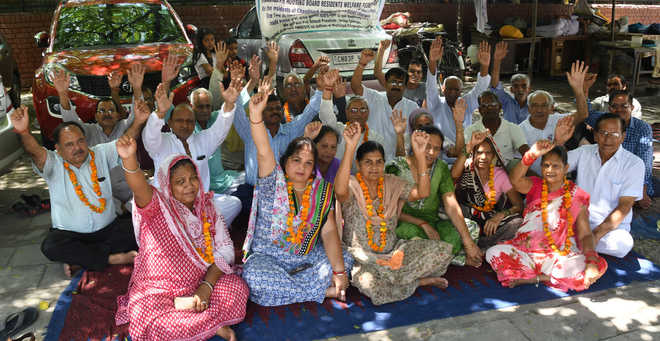 Tribune News Service
Chandigarh, July 28
Various associations of Chandigarh Housing Board flats affiliated with the CHB Resident Federation have rejected the policy to impose penalty for violation of building bylaws in the houses constructed by the CHB.
The decision has been taken at a rally of various associations held at a park in Sector 41 today. The residents observed a hunger strike at several places in different sectors today.
Rajat Malhotra, general secretary of the federation, said all members of the association vehemently opposed the policy for imposing penalty for violations.
Nearly 100 residents of CHB dwelling units sat on a hunger strike at 7 different locations and more than 1,500 residents gathered in their support. The CHB residents demanded one-time settlement for the regularisation of need-based changes made within plot area within storyline of their dwelling units.
Residents are demanding "General Amnesty" scheme on the pattern of the Municipal Corporation, Delhi, where need-based changes were regularised in about 5 lakh dwelling units of DDA by allowing 90 per cent of plot area by charging one-time reasonable fees and one-time usage charges were taken from residents for the remaining 10 per cent of the plot area.