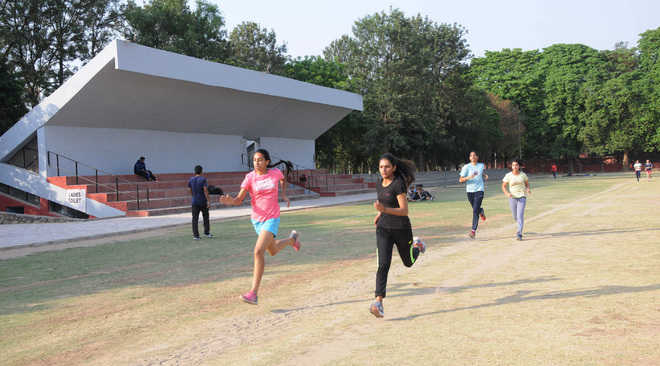 Deepankar Sharda
Tribune News Service
Chandigarh, May 24
The city, home to Flying Sikh Milkha Singh and 101-year-old athlete Mann Kaur, might get its first synthetic (tartan) athletics track by the end of this year, Joint Director, Sports, Mahender Singh said here today.
"The authorities are working seriously towards procuring the synthetic surface," said Singh even as nothing seems to have moved on papers.
The new turf will be laid at the Sector 46 Sports Complex, which currently has got a grass track. Pertinently, the local athletes compete on synthetic tracks during junior/senior national championships.
The proposal to acquire a synthetic track for the Sector 42 complex was announced in 2012 by the then Finance-cum-Sports Secretary. However, a common wall between the sports complex and Post Graduate Government College, Sector 46, which runs close to the proposed track, continues to be a hurdle in the project. And till date, the authorities concerned have not been able to resolve the problem.
"The estimated amount of the tender has been submitted to the Engineering Department. The procuring of the track will take a while but we are trying to complete the project in this financial year," said the Joint Director.
When asked about the delay in the project, he said the department was trying to iron out the shortcomings.
"We have started afresh. Whatever happened in the past is over. We are discussing the possibilities of procuring common land from the college and also resubmit the entire project report to the Engineering Department," said the officer. On many occasions in the past, legendary Milkha Singh had desired to run on the city's first synthetic track. Also, Mann Kaur had stressed that a synthetic track was important for the proper training of local athletes.
Delay in project
The project to lay an all-weather track, made of polyurethane, at the Sector 42 Sports Complex was announced in 2012. In 2013, after Bollywood movie 'Bhaag Milkha Bhaag' was released, the authorities, in order to honour Milkha Singh, once again started the process of acquiring the turf. But the initiative was left in between. Later, it was decided to come up with a full-fledged 10-lane track, but lack of space forced a rethink and the authorities finally settled for a seven-lane track. The planning committee highlighted the need to acquire some of the area from the Sector 46 College, but since then, there has been no development on the project.