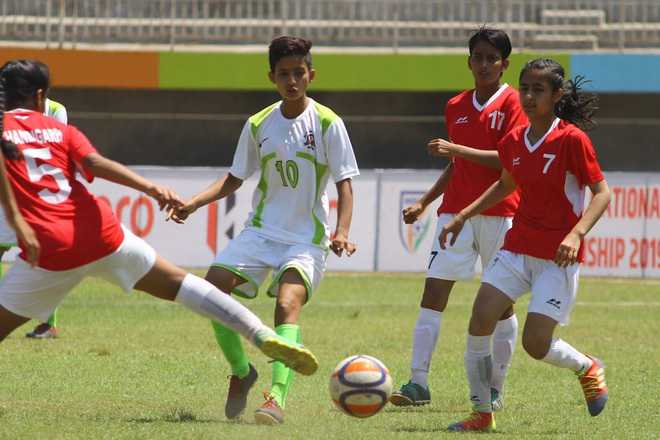 Tribune News Service
Chandigarh, April 21
Last year's semifinalists Himachal Pradesh handed a 5-0 defeat to Chandigarh in the opening Group G match of the Junior Girls' National Football Championships in Kolhapur today.
Poonam netted the opening goal in the second minute. Manisha scored a brace (12th minute, 14th minute) to give Himachal Pradesh a three-goal lead.
Poonam got her second in the 61st minute, while skipper Anju scored the team's fifth goal in the 78th minute to confirm an easy win.
In a Group H match, Lalrinmuani came up with a stunning hat-trick as Mizoram hammered Punjab 9-0. The striker netted in the 6th minute, 41st minute and 45th minute to push Punjab on back foot. Lalnunsiami added two goals (62nd minute, 87th minute), while Vanlalnghaki (65th minute), K Ngopaw Di (47th minute), skipper Lalhlupuii Varte (10th minute) and Nancy Lalhlimpuii (57th minute) added a goal each.
In another match, two late goals helped Odisha overpower Chhattisgarh at the Rajarshi Shahu Stadium. Midfielder Laxmi Podiyami put Chhattisgarh ahead in the 23rd minute. However, just a minute later, Manisha Naik equalised for Odisha. Jyoti Kumari (72nd minute) and substitute Barsha Mahakud (80th minute) scored to ensure a stunning win for Odisha.
Bihar beat Telangana 3-1. Kajal Kumari scored the opener in the 22nd minute, while two free-kick finishes from Jyoti Kumari (47th and 79th minutes) on both sides of R Ravali's 66th-minute goal helped Bihar seal an easy win.
In the last match, Kerala recorded a 6-0 win against Andhra Pradesh. P Malavika netted four goals (2nd minute, 7th minute, 36th minute, 69th minute), while substitute Pristy CA scored twice (76th minute, 90th minute) for Kerala.
On Monday, Haryana will face West Bengal in a crucial Group D tie. In other matches, Uttar Pradesh will play against Jharkhand, Delhi will lock horsn against Tamil Nadu, Goa will face Manipur, Uttarakhand will play against Tripura and Arunachal Pradesh will take on Karnataka.
Top Stories