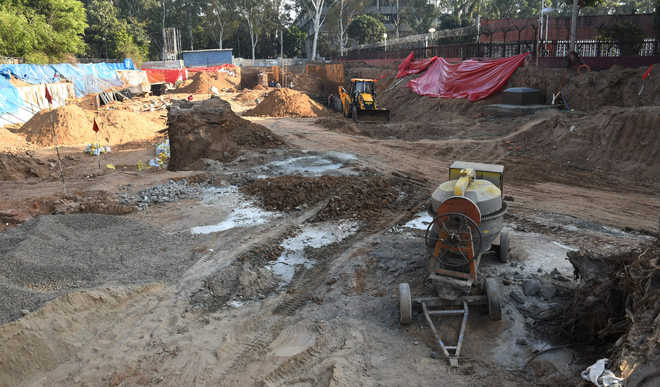 Ramkrishan Upadhyay
Tribune News Service
Chandigarh, January 31
Smart power system, 24X7 water supply, intelligent traffic management system, bicycling sharing, revitalisation of Sector 17 and wi-fi zones across the city are some of the projects promised to residents when Chandigarh made it to the list of smart cities on May 25, 2016.
Nearly two years down the line, not much has been achieved on the ground. Sample this: Out of 71 projects envisaged under the Smart City, work on only six has been completed while tendering process has started for 14 projects.
The Centre has fixed a five-year deadline for the completion of all Smart City projects. However, chances are that the deadline will not be met considering the slow pace of works.
While the Chandigarh Smart City Company has got Rs 300 crore for projects as the first installment, it has spent only Rs 5 crore so far. The firm also failed to fill the post of the general manager, who will be responsible for all projects.
All projects are expected to cost around Rs 6,200 crore. Of these, Rs 5,950 crore is meant for area-based development and Rs 250 crore for the pan-city proposal.
The work on major projects like maintenance of public toilets, bicycle sharing scheme and area-based development of Sector 43 is yet to begin.
It took more than a year for the Municipal Corporation to appoint project management consultants (PMC) for the project after the registration of a special purpose vehicle (SPV) —Chandigarh Smart City Company. The SPV was formed in July 2016. The company finalised the PMC, Egis International SA, in March last year. The PMC will design, develop, manage and implement approximately 71 Smart City projects.
Sources said the consultant had submitted a survey report on providing 24X7 water supply to Mani Majra.
The smart water supply project is also yet to be started. Under the project, smart water meters will be installed at each house and a supervisory control and data acquisition (SCADA) system will monitor the complete transportation, distribution and treatment of water.
The project of intelligent traffic management system is also held up. Under the project, cameras and sensors would be installed at all light points in the city to keep tabs on those indulging in overspeeding or jumping the red light.
Though the plan for revitalisation of Sector 17 has been prepared, the work on only two projects has kicked off. These are construction of a subway connecting Sector 17 and Rose Garden in Sector 16 and an urban park in Sector 17. The works of other 15 projects in Sector 17 are yet to start.
Sources said the projects, which had been almost completed, were installation of LEDs in street lights, laying of 22-km cycle track and improved signages.
Minister to review projects on Feb 3
Chandigarh: Minister of State for Housing and Urban Affairs Hardeep Singh Puri will be in the city on February 3 to review various Smart City projects. He will also review projects under Pradhan Mantri Awas Yojana, Atal Mission for Rejuvenation and Urban Transformation (AMRUT) and Swachh Bharat Mission. Sources said MC officials had started making preparations for the minister's visit.
Top News
Teams conducting raids to arrest the BJP leader
Jaishankar meets UN Secretary-General Antonio Guterres and P...
Canada is home to about 770,000 Sikhs - the highest populati...
Canada has alleged that Indian authorities were behind Nijja...