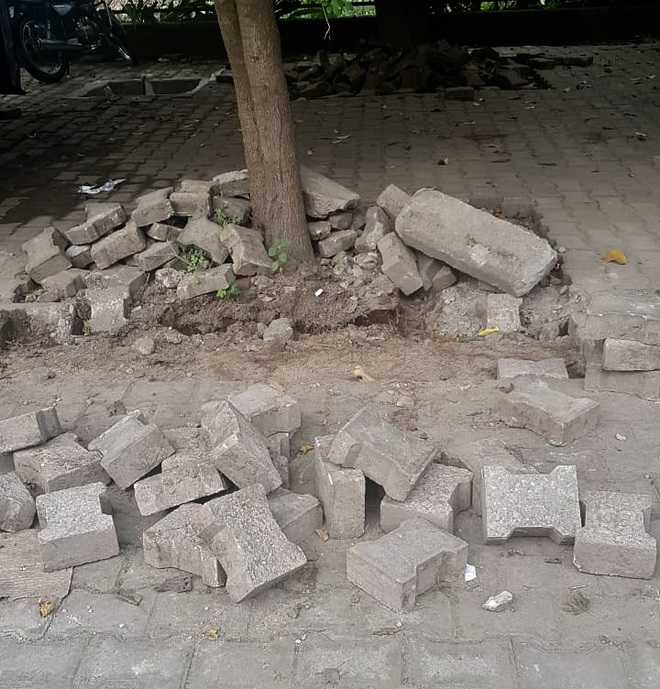 Is a civic issue bothering you? Are you agitated over the lack of concern? Is there something heartening that you feel needs to be highlighted? Or a picture which in your opinion ought to be seen by many, and not just you?
ChandigarhTribune invites its readers to have their say. Please email at: haveyoursay@tribunemail.com
City suffers due to MC's apathy
Paver blocks across Chandigarh are broken, giving a shabby look to the City Beautiful. The MC, which is already facing financial crunch, is not bothered to take care of necessary tasks in a mannered and financially-viable way. The broken pieces of pavers and cement lying on road and parking are a nuisance. Wild grass and plants are not trimmed by the MC, which has led to the breeding of mosquitoes. Long-pending problems such as mismanaged parking, dog menace, construction of bus shelters, disposal of garbage, traffic woes, water/electricity supply and recruitment of new staff are not being given any attention. The departments concerned should be held questionable for such negligent behaviour.
Deepak Arora, Chandigarh
Cycle tracks of no use
THE authorities have constructed cycle tracks across the city and a lot of taxpayers' money went into it. However, barely anyone is using them. No one is really bothered about the implementation of rules for cyclist, horse carts and rickshaws. Before spending money for construction, the government should have worked out a plan for the implementation of rules and fines for violators. Sumit Gupta, Chandigarh
Stray dog menace
Residents of Sector 18-C are a harried lot due to the prevalent stray dog menace. Recently, a child was attacked a dog in the area. However, the Municipal Corporation is not paying much heed to it. It is disappointing as the taxpayers' money is not being put to good use. PPS Paul, Chandigarh