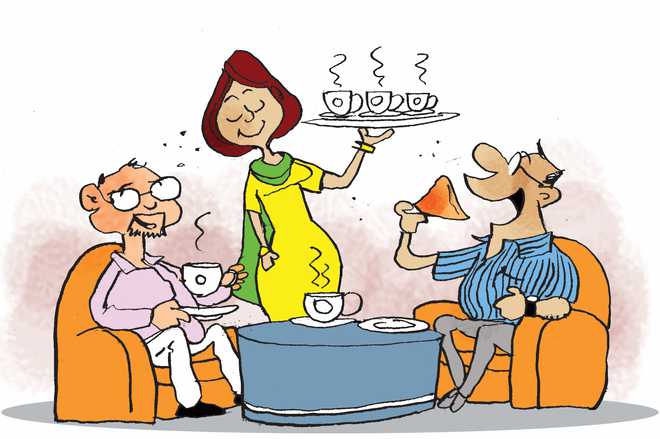 Samir Malhotra
In our department, like most others in the PGI, there was a tradition to have a coffee club, managed by the students. Recently, a student informed that one of their demands is that they will not run coffee clubs. This made me revisit the time when I was a student and used to run the coffee club, a month-long assignment. A straightforward task, I found it complicated.
The first thing I learned was that though it was called "coffee club", we mostly made tea. Beaten coffee was for special occasions. One challenge was that some faculty members preferred ready-made tea whereas others liked to add milk and sugar separately. Although the timing was fixed (10.30 am), some faculty member would be preoccupied and come late, still expecting a hot cup. On Saturdays, we also had to arrange some snacks (often samosas). In summers, it was customary to have cold coffee. Many festivals were celebrated in the coffee club. After passing out, a student would throw a party and give a parting gift (mostly cups) to the coffee club.
To some, this duty was mildly unpleasant, to others it was obnoxious as most considered it unworthy of a doctor. Two decades later, the coffee club reflections bring mostly pleasant memories. The old-timers visiting the department fondly recall moments spent in the club. One could take a glimpse of transformed personalities of our otherwise solemn, stern and keep-it-to-the-point teachers like Prof PL Sharma, Prof Pandhi and the late Professor Garg. This was the time we found they were humans too, with deep insight in subjects other than science, each possessing a characteristically different sense of humour. Their wisdom and views on politics, sports, movies, food and anything on the earth or above it, were lessons in itself.
Although perfectly happy with their medical training, students nowadays often complain about the lack of training in soft skills. One of their demands is that lectures on soft skills be organised. A paper published last year showed that the Generation Y expects to be taught soft skills. According to a Harvard study quoted in the Wikipedia, 80 per cent of career achievements are determined by soft skills and only 20 per cent by hard skills. Another paper this month described how medical educators are taught to teach soft skills to the medical students.
What are soft skills? We had not heard about them during our training. These include responsibility,
communication,teamwork, negotiation, problem solving, decision-making, ability to work under pressure, time management and conflict resolution etc.
Many agree that these skills may help secure a job. Now, I realise how running a coffee club teaches all these skills, even though on a small scale.
A small amount of money is collected from the members, which should last a month. Supplies may run out and you have to quickly arrange these. Sometimes, you are busy and have to ask your colleagues to handle the responsibility. You often have to take the help of hospital attendants and learn to keep them in good humour. Here your communication, negotiation and managerial skills are tested.
Sometimes, the cooker breaks down or the cups are broken, or the milk turns sour, or a member refuses to pay his dues – you learn to handle these situations. You learn to make sure that festivals are celebrated and birthday cards purchased.
You get tips from your seniors about how to efficiently manage your time – tips that you pass on to your juniors. Occasionally, a voluntarily offered "tip" may be a red herring and you learn to distinguish genuine tips from mischievous or malicious ones.
Regrettably, I did not carry out a formal study to evaluate how students' handling of the coffee club correlates with their academic performance. I have heard numerous lectures on soft skills. None can match the hands-on training that you get while carrying out this supposedly mundane, unnecessary activity. Unfortunately, this tradition is dying out, a price we pay for the machine coffee. Sad. Even tragic!
Top News
The move is a key step as Western sanctions aim to reorder t...
Will use all relevant tools to ensure terrorists do not use ...