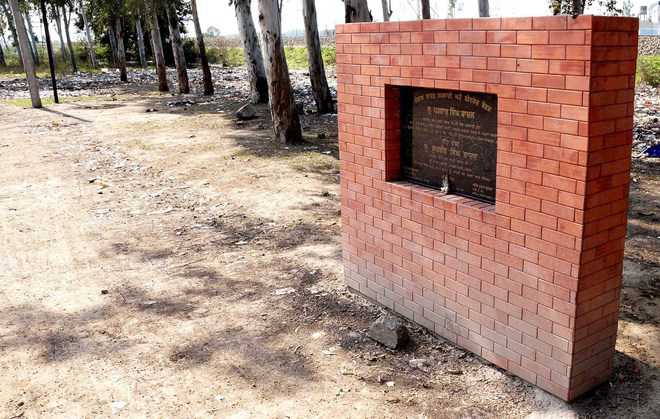 Let there be installation of plaques bearing the councillor's name for their involvement in development works at different places in their constituency. For their satisfaction, I will like to suggest hanging of plaques on their vehicles and if walking, on their back and in front.
Normally, any work done by the MC is visible to the residents of the area at the ground level. Putting plaques here and there at the cost of public money will be sheer wastage and serve no purpose except for pandering to the ego of the councillors.
JS Jassal, Patiala
---
Names on plaques will do no harm
I feel there is no harm in installing plaques with councillors' names on the work/project completed. If this can be a motivating factor to finish a work, then let it be so. As it is, most of the MC's time is wasted in politics and internal fights. The budget remains half spent and works incomplete. Names on plates and inaugural stones are an attraction for our politicians and VIPs. Aim should be to finish work and development projects. Once done, let there be a name on it. A plaque should not precede the work. May be, on seeing it, others too will get motivated.
So, play on installing plaques with names of councillors concerned.
Col RD Singh (retd), Ambala Cantt
---
Don't forget former councillors
Plaques bearing the names of former councillors, who had done good development work in their respective wards, should also be installed. Only then will it be justified.
RK Kapoor, Chandigarh
---
A deplorable move of the civic body
Installing plaques for the work completed by the councillors by spending public money is deplorable. Councillors are representatives of the people, who elect them. A particular person is elected to represent the people of the ward with an understanding that he/she will make the life of the area residents smooth, solve their problems, bridge a gap between the MC/government and the public. If a councillor works
for the betterment of the people, then he/she is discharging his/her duty. In return, he gets compensated for his efforts. So,
if a councillor completes his work and satisfies all, then he/she is re-nominated by the residents of the ward. On the other hand, if the MC plans to install plaques for the work done, then these should
list jobs not done by the councillors in his/her ward, cost overrun and delays and projects yet to be finished in the ward.
Dr Rajeev Kumar, Chandigarh
---
Plaques turn rubble with passage of time
At every project, we invariably find costly granite stone plaques-- one on the foundation stone and the other installed while dedicating it to the public, depicting the names of VIPs having performed the ceremony. The fixing of such plaques involves avoidable wastage of public money and only serves short-term political publicity. Nothing goes beyond this as plaques have been seen turning into rubble with the passage of time. As this is not enough, the area councillor is now clamouring for fixing his/her plaque for the work sponsored by him/her, an absolutely unjust and unwarranted demand. With money needed for more essential public services, it's time to shun the culture of fixing plaques/arranging public functions with VIP visits to avoid misuse of tax payers' money. However, an information board mentioning the scope of work, the executing agency, cost involved and the time frame for its completion should be displayed at the project site.
SS Arora, Mohali
---
Councillors should adopt simplicity
Installing plaques is not a bad idea, but inaugural functions are a waste of public money and misuse of MC funds. To stop such practice councillors should be encouraged to adopt simplicity. It will prod the councillors to undertake development works in their respective wards. Fixing plaques without any fanfare will be a way to austerity and justify the action of the MC.
Bharat Bhushan Sharma, Chandigarh
---
No justification in wasting public money
Already foundation stones laid on sites of works funded from the MPLAD fund bear the name of ward councillor and others. Due to internal friction between councillors/political parties sometimes the same work is inaugurated twice. It requires installation of more than one plaque. This step is self-glorification. Except plaques nothing else is seen on the site with no accountability for the completion of work within stipulated time. Therefore, there is no justification in wasting public money by the MC.
AS Ahuja, Chandigarh
---
The idea has to be shelved
In all fairness, installation of plaques bearing names of councillors, who recommended development in their wards, may be a sign to boost the morale of those, who think and do good. Unfortunately, what we observe in political circles is manipulation and hijacking of credit to satisfy false ego and for materialistic gains. Moreover, endeavour for the public interest should not be personalised. I feel the idea of installation of plaques needs to be shelved till we become "good-doers" on realistic counts.
MPS Chadha, Chandigarh
---
Decision should be revoked immediately
The decision of the Chandigarh Municipal Corporation (MC) to install plaques bearing the names of councillors, who recommend development works in their respective wards, is ridiculous. Its purpose must be best known to the MC. It is a futile exercise. It is misuse of the public money. If the public wants to know what work were recommended by their councillors, then they can easily get the information through an RTI. Why to waste money on these plaques? Instead, the amount spent on these plaques can be used for some other fruitful public welfare work. Mentioning councillor's name on plaques will only be beneficial to them as it will give him/her free publicity at the cost of public money. So, in my opinion, the decision should be revoked as soon as possible.
Bir Devinder Singh Bedi, Chandigarh
---
No fun in adding pomp and show to work done
It seems that the decision of the Municipal Corporation to install plaques bearing the names of councillors on each project recommended by them is totally absurd. It is the duty of a councillor to recommend and get development projects executed in his/her ward. One should not forget that the public has elected councillors and also the money used for projects belongs to the tax payers. So, there is no fun in adding pomp and show to the work done by a councillor as he/she is just performing his/her duty as any other employee working in any other organisation. The decision of installing plaques with the names of the councillors should be withdrawn immediately by the MC authorities.
Sanjay Chopra, Mohali
---
Wastage of public funds to praise councillors
To install plaques bearing name of the ward councillor and other details of the project in the area will be a wastage of the public funds for unnecessarily eulogising a public representative. While recommending any project in his/her ward, a sitting councillor is sincerely performing constitutional obligations for the public of the area and therefore, needs no priase of any kind. Moreover, it is not the culture of the City Beautiful to adorn each nook and corner of the ward with plaques, which provide an unsavoury look and experience to the visitors. Resident Welfare Associations may be associated with projects so that the general public can also be involved and become aware of the ongoing development work in their vicinity.
Bhupinder S Sealopal, Mohali
---
Fulfil promises made during elections
Plaques bearings the names of councillors to get credit for development in their wards is only for public fame and political benefits in future. Councillors should concentrate on quality of work and to complete their recommended development projects on time, which will be much more effective to secure a vote bank. More important is to satisfy the public by fulfilling promises made during the elections instead of fixing plaques with the names of councillors on development projects. On the whole, the decision of the MC is not justified.
Sukhpal Singh, Chandigarh
---
Good work never goes waste
I fail to understand what is the necessity to install plaques with councillors' names. They want that work done in their area should be shown to the future generation. As has been said, flattery is from the teeth out, sincere appreciation is from the heart out. There will be no end if we start installing plaques. Every future councillor will ask for the same facility. Councillors should think that good work done will not go waste and voters of the area will elect them in the next elections.
Tarlok Singh, Mani Majra
---
Decision can stop raising of eyebrows
It has been a regular practice to install plaques at the time of laying foundation stone as also during the inauguration of completed development works with names of area councillors along with those dignitaries, who cut the ribbon. This practice has been in vogue for quite some time. If it has been given an official stamp now, it will stop raising of eyebrows. This decision will in fact act as an incentive for all those area councillors, who fail to spend allotted funds for development works in their wards. More development work will eventually be in the interest of residents.
SC Luthra, Chandigarh
---
Projects are no one's personal property
The practice of mentioning the name of councillors on plaques installed while laying stones or inaugurating projects should be stopped. It's the duty of the councillors to recommend projects as they are elected for the purpose. After all, the work is carried out with public money. It should not be anybody's right to get his/her name carved out on plaques. Rather plaques may carry details of the project completed with the public money.
Harsimran Singh Thuha, Chandigarh
---
Top Stories