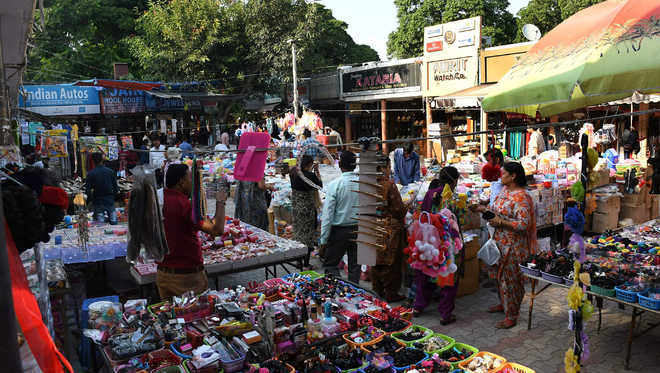 Tribune News Service
Chandigarh, October 13
Municipal Corporation Commissioner Kamal Kishor Yadav will hold a meeting with the Deputy Commissioner and Senior Superintendent of Police on Monday to decide whether to allow putting up stalls in markets during this festival season or not.
The demand was raised by the traders after UT's Senior Standing Counsel Pankaj Jain wrote to the Corporation that it can put up stalls in various markets, except Sector 22 and 17. The civic body had sought the legal opinion in view of the ongoing encroachment case pending in the Punjab and Haryana High Court. The MC was of the view that since the court also asked DC and SSP to assist them in removing unregistered vendors, so they deemed it right to take their view before deciding on it.
Jain had earlier stated to the MC that the status quo order of the court is for Sector 22 only. While, the normal practice of allowing stalls during the festive season every year does not fall under the preview of taking action against unregistered vendors. The court had directed to remove unregistered vendors in one month earlier.
He had added that Sector 17, which has been declared no-vending zone by the Town Vending Committee, should also not be allowed.
Charanjiv Singh, Chairman, Chandigarh Beopar Mandal, said, "Since legal opinon has found it right, the stalls should be permitted as soon as possible. The court order is for unregistered vendors not for festive stalls by shopkeepers."
---
Encroachment case pending in high court
The demand was raised by the traders after UT's Senior Standing Counsel Pankaj Jain wrote to the Corporation that it can put up stalls in various markets, except Sector 22 and 17. The civic body had sought the legal opinion in view of the ongoing encroachment case pending in the Punjab and Haryana High Court
The MC was of the view that since the court also asked DC and SSP to assist them in removing unregistered vendors, so they deemed it right to take their view before deciding on it
Top Stories