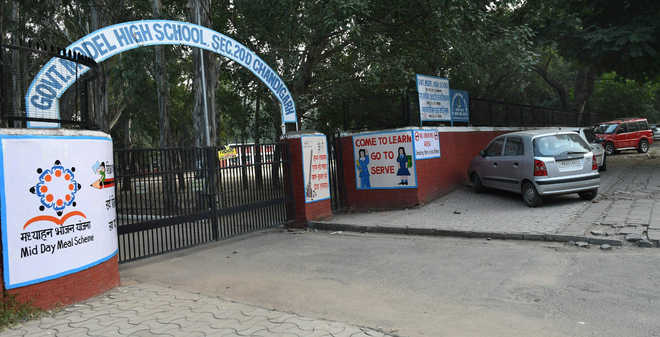 Tribune News Service
Chandigarh, October 18
To cope with parking woes during the festive season, which leads to traffic snarls in the city, the parking lots of 29 government schools were ordered to be opened for parking after school hours for people visiting market areas. However, the gates of several schools were found closed this evening. Besides, no boards were put up outside the schools to inform people visiting the market to use the school parking lots.
The UT Administration had made the school parking lots available to people during the festive season to battle traffic chaos. As per the orders, the parking lots at the schools will be open to the public till October 29.
However, during a visit to schools in Sector 18 and 19, no boards were found to guide people to park their vehicles in the school parking lots. The gates of two government schools in Sector 20 were found closed.
A visitor to the Sector 18 market, Inderdeep Singh, said there should be someone to guide the visitors about the availability of schools for public parking.
The government schools that have been opened for parking include the government schools in Sector 8 and Sector 15, two schools in Sector 22 A and C, the school opposite Tagore Theatre in Sector 18, two schools in Sector 19 C and D, three schools in Sector 20, three in Sector 29, one in Sector 30, three schools near the Mani Majra market, one school each in Sector 32, 34 and 44, a school near the Sector 46 market, two in Sector 35 C and D, two in Sector 37, one in Sector 38 and 41 and two schools in Sector 40.
The orders of the UT Administration regarding parking at the schools was also tweeted from the handle of the Chandigarh Traffic Police.
A police official said they would look into the matter and ensure that the school gates were opened for the public after school hours.
The official said for those who parked on roadsides in front of markets, a tow-away van would patrol the busy market areas and make announcements.