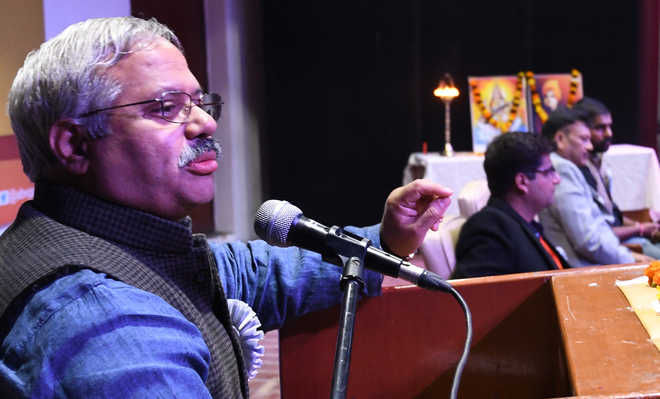 Amarjot Kaur
Tribune News Service
Chandigarh, February 11
For addressing the young brigade from city colleges and Panjab University, including the potential first-time voters of the upcoming Lok Sabha elections, the ABVP invited its national organising secretary Sunil Ambekar at the PU Law Auditorium on Monday.
With saffron-coloured flags dotting the auditorium's facade and colour-coordinated posters of the event themed 'Ubharta Bharat Nayi Aashayein', Sunil waxed eloquent on 'Hindutva and nationalistic' narrative of the right-leaning student party.
From establishing the significance of prioritising Ram Mandir and discussing the drawbacks of NOTA to verbally lashing out at the so-called 'Urban Naxals', Sunil said it was impossible to solve employment crisis. "For a country as populated as ours, it is difficult to generate employment for 2 crore young people not just by the present government, but governments in other countries as well. If someone says that, they're misguiding people," he said, when asked about PM Modi's tall claims about creating 2 crore jobs for India's youth way back in 2014.
From quoting source-deprived news articles about how India's economy has surpassed Britain's and that "we are growing in the field of agriculture and science", he stated that young students in some universities are being misguided to tread on the path of violence.
Replying to a student's question on 'Ram Mandir' debate gaining momentum just before the elections, Sunil said: "Earlier, people were angry because the court was not taking the issue of Ram Mandir on priority, but now it is. I am certain that Ram Mandir will be made."
When this correspondent asked Sunil about Ram Mandir in view of religious politics, especially in a country as diverse as India, he said: "It's not about religion, but people's faith." Sunil's stance on NOTA, too, resounded a peculiar concern—that of leaving the country's democracy defunct. "We do need a government, right? NOTA will leave the democracy of our country defunct. It should be done away with," he opined.