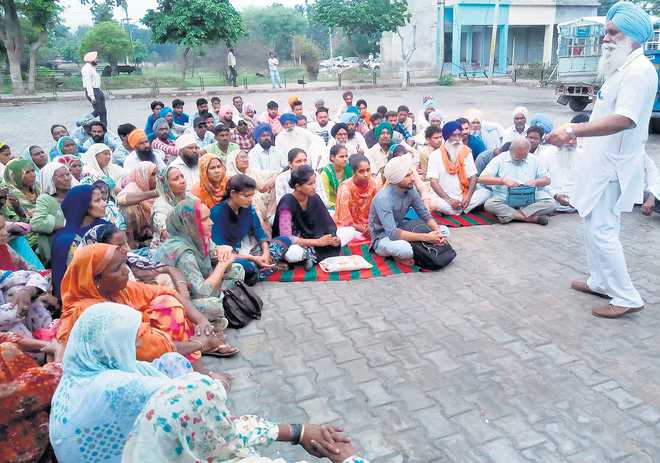 Tribune News Service
Patiala, June 27
Residents of Kaidupur village of Nabha subdivision, protested in front of the District Administrative Complex against the District Development and Panchayati Officer (DDPO), Surinder Singh Dhillion, on Wednesday. The protesters were up in arm against the DPDO for compromising the Punjab Common Village Land Policy, by him, during an auction in the village.
However, the Deputy Commissioner has ordered a stay on the auction for two days, and an inquiry has been ordered in the case.
On Tuesday, the protesting Dalit villagers staged a protest in front of the DDPO office to seek a meeting with the official, but the DDPO went home without meeting the protesting Dalit-villagers. But, villagers continued their protest. Following which, the protestors were arrested under Section 107 and 151 of the CrPc, late on Tuesday evening.Though, the protestors were released on bail on Wednesday.
Villagers alleged that the DDPO violated the rules of an auction of common agriculture land in Kaidupur village. Every year, common agriculture land is auctioned by government, under the supervision of the DDPO, to give land on lease to the villagers. Out of the total common agriculture land in each village, one third is reserved for the people belonging to the Dalit community. During the auction of the same on June 23, the DDPO gave away the complete land reserved for Dalits to a single planted bidder, protestors alleged. Additional Deputy Commissioner Shaukat Ahmed Pare, who is heading the inquiry, said, "We have given two days to both the parties to prove the allegations. After the inquiry, we will decide on the auction."