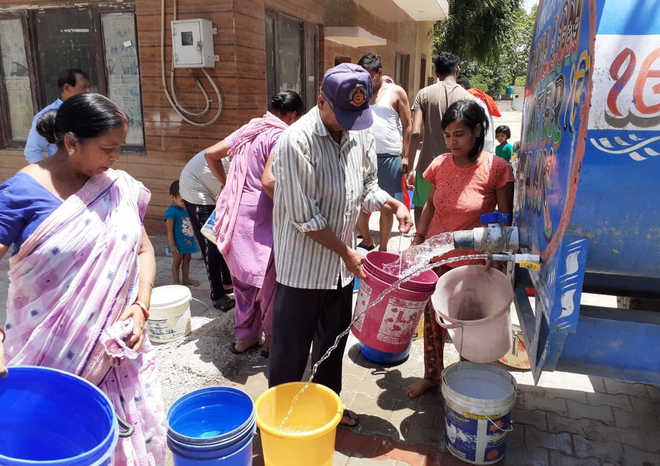 Tribune News Service
Chandigarh, June 15
Residents of some areas in Raipur Khurd village are not getting water supply for the past three months.
With taps running dry they have to rely on water tankers. Though the MC sends water tankers to the village, these are not adequate to meet the needs of the residents, forcing them to shell out money to suppliers of private water tankers. MC vehicles come in a day or two, which makes their daily routine tough.
The residents of Barrier Colony and Tribune Colony are the worst-hit.
Suresh Kumari, a teacher and a resident of the village, said, "There is no water supply in our house for the past three months. We are having a tough time. My mother underwent an eye operation and I cannot leave her behind to get buckets filled each time the MC vehicle comes to our area."
Another resident said MC vehicles were parked at a long distance and they find it difficult to carry home buckets filled with water.
Ramesh Kumar, another resident, rued, "Some houses are getting water supply, but the pressure is too low. There are around 80 houses here. Some households have not got water supply for one month while others three months. We are tired of waking up everyday only to fill buckets."
MC Chief Enigneer Manoj Bansal said, "The problem could be with some specific locality, not with the entire village. In houses outside lal dora, there is a connectivity issue. However, we are providing water tankers everywhere. We will get this particular issue checked and resolved."
Top Stories