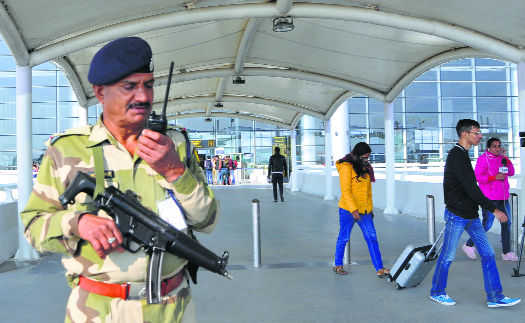 Tribune News Service
Mohali, February 27
Escalation in tension between India and Pakistan led to the cancellation of at least 11 flights, including the Chandigarh-Dubai flight, at the airport in Mohali today.
The Indigo Chandigarh-Dubai flight could not take off from the local airport apparently due to the ongoing tension between the two neighbouring countries.
"The entire northern region is on red alert and the international flight stood cancelled due to security reasons. The Chandigarh-Dubai flight goes over Pakistan and it did not take off today," said sources.
The sources said international flight operations would resume tomorrow.
Apart from the international flight, the other Indigo flights which were cancelled today included Chandigarh-Delhi, Chandigarh-Bengaluru and Chandigarh-Hyderabad. Flights of other airlines from the city to different destinations, including Lucknow, Srinagar, Mumbai, Pune and Delhi, were also cancelled. Air India's Kullu-Chandigarh flight was cancelled due to bad weather, said the sources.
A spokesperson for the airport said today the Chandigarh airport remained open for flight operations for the entire day. "It will open at its normal time tomorrow also," said the spokesperson.
Meanwhile, due to cancellation of at least 11 flights, the airport witnessed a huge rush on the premises.
Several passengers and their kin, who had come to see them off, were disappointed after the cancellation of the flights.
Poonam, who was going to Doha, Qatar, said her programme had got upset due to the cancellation of flight all of a sudden.
Similarly, Chandigarh-based Sonia, who was going to Mumbai, said she had some urgent work there, but the cancellation of the flight had left her with no option but to stay and wait.
QRTs stationed
In the backdrop of escalating tension between India and Pakistan, the security at the local airport has been beefed up substantially. Along with CISF officials, around 50 personnel of the Mohali police have been keeping a strict vigil there. Four Quick Reaction Teams (QRTs), a bus equipped with CCTV cameras and a bomb disposal team have also been stationed at the airport. "All vehicles coming to the airport are being checked before entering. The security has been beefed during the past couple of days," said Inspector HS Bal, SHO of the Airport police station.
Top News