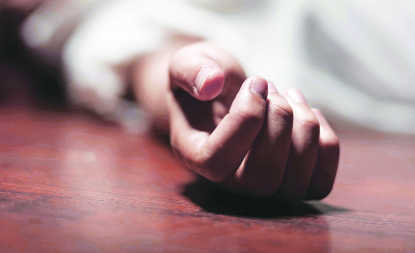 Our Correspondent
Zirakpur, June 11
A 30-year-old labourer died after he allegedly fell off the terrace of an under-construction house near Aerocity here today. His family has alleged foul play in the incident.
The deceased has been identified as Subhodh Kamat, a resident of Saharsa district in Bihar. His brother Manoj Kumar has alleged that it is a case of murder.
The incident came to light in the morning when the contractor, Kesar Singh, found the body lying on the ground floor and immediately informed the owner of the house, who rang up the police. As per the information, after having his dinner, Subhodh went to the terrace to sleep yesterday. When he did not come for work the next morning, Kesar Singh started looking for him and found him lying dead on the rear of the under-construction house. The Zirakpur police have initiated an inquest proceeding into the incident and shifted the body to the mortuary at the Civil Hospital, Dera Bassi, for a postmortem examination.
The police said they were also investigating the allegation levelled by the kin's family members.
Pedestrian dies in hit & run
In a case of hit-and-run, a pedestrian died after a speeding truck knocked him down and sped away. According to the police, the complainant, Vikas Dutta, reported that he saw a truck speeding away after hitting a pedestrian near the Transport light point on June 10. The victim, identified as Sudama Yadav, a resident of Sector 23, was seriously injured in the mishap.
The police were informed about the incident and the victim was rushed to the PGI where he succumbed to his injuries. A case under Sections 279 (rash driving), 337 (causing hurt by act endangering life or personal safety of others) and 304-A (causing death by negligence) of the IPC has been registered against the unknown truck driver at the Sector 26 police station. The police said the complainant had managed to note down the registration number of the truck, which was being verified.