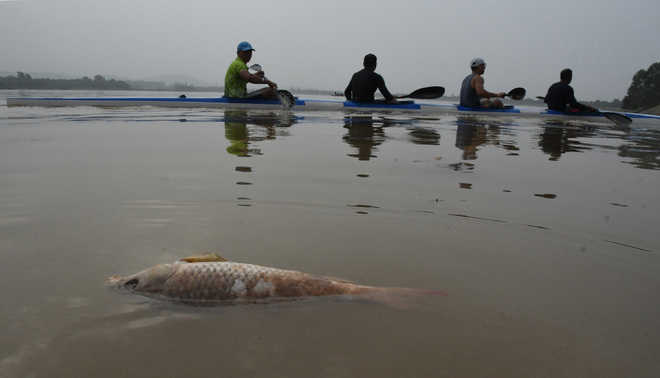 Ramkrishan Upadhyay
Tribune News Service
Chandigarh, August 5
More than 15 fish were found dead at Sukhna Lake on Sunday. While officials of the Animal Husbandry Department primarily blamed lack of oxygen in the water for the death of the fish, experts said there could be other reasons too.
The Sukhna water has turned muddy these days resulting in a loss of oxygen. Dr Ravneet Kaur, Assistant Professor, Department of Zoology, PU, said in this season of high humidity, there was less exchange of oxygen between the water and the external environment. She said it happened every year these days. Regular visitors to the lake said for the past one week, they had been noticing some dead fish in the water.
Mukesh Bassi, a regular visitor to the lake, said the smell of dead fish made it difficult to walk along the lake.
Dr Ravneet Kaur said some fish might not have been able to tolerate the deficiency of oxygen in the lake water and died.
She said, "This usually happens during the monsoon when there are clouds all over and less sunlight. This leads to a decline in the oxygen level. The fish could not get enough oxygen and died."
Dr Kanwaljeet Singh, Director, Department of Animal Husbandry and Fisheries, said they were closely watching the development. He said they had noticed that the water flow from upper areas also brought a lot of silt, resulting in less oxygen. Some of the dead fish came from the upper areas.
Experts said despite the High Court's order, sewage from nearby areas was still flowing into the lake, which also needed to be monitored.
Top Stories