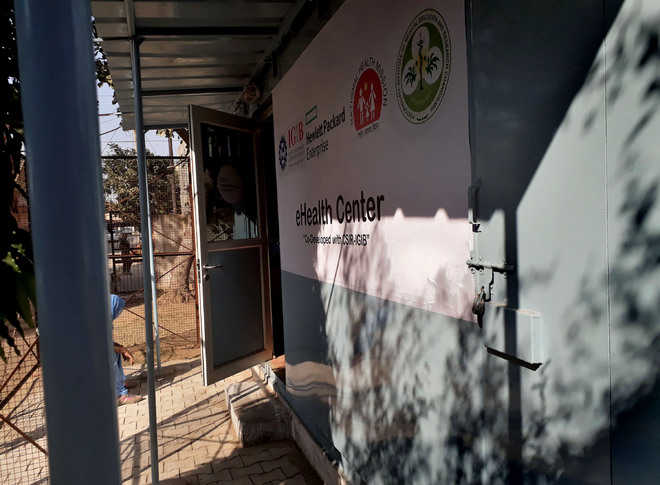 Mohit Khanna
Tribune News Service
Chandigarh, November 25
Merely four days after the much hyped launch by the Governor, the e-health centre located at a government dispensary in Dhanas has been closed. Even the lone doctor at the dispensary was found missing and ailing patients were being told to visit the centre next week.
The pathology lab technician, who has been deployed by PGIMER as a makeshift arrangement, said tests would be conducted only after the recommendation of the doctor.
There was no one to perform the respiratory function test (RFT) and ECG. To top it all, the lab was found locked.
One of the employees said the e-health centre was practically closed soon after its inauguration.
Punjab Governor and UT Administrator VP Singh Badnore, along with MP Kirron Kher, had inaugurated the centre on November 21.
Barely a few minutes after the inauguration, Meenu Singh, head, Department of Telemedicine, who is heading the facility, had highlighted the absence of a dedicated team of doctors and paramedics to run the centre.
Residents of the area, who visited the dispensary, rued that the opening of the e-health centre was a mere eyewash as the facility was closed soon after its launch.
"Yet again, the UT authorities have played a cruel joke with residents of Chandigarh," said Surinder Singh, an area resident while coming out of the dispensary.
Another visitor at the dispensary expressed resentment over the matter.
"The government has cheated us. During the time of launching the project, the authorities claimed that residents of the area would no longer have to stand in long queues at the PGI and other government hospitals in the city for treatment. However, nothing has changed. I have been denied treatment at the centre. Hence, I have no option but to visit another hospital," he said.
On the other hand, the authorities continue to pass the buck.
When contacted, Dr G Dewan, Director, Heath Services, UT, and Dr Vandna Gupta, Medical Superintendent, said they were out of the town.
Immunisation programme held sans doctor
The immunisation programme was being carried out at the government dispensary in the absence of a doctor. According to the guidelines, the doctor's presence is mandatory while carrying out the programme.
Centre set up in courier container
The e-health centre has been set up by converting a courier container lying unused at the Dhanas dispensary for nearly a decade. Diagnostic tests, including ECG, lung function and blood test, will be conducted at the facility. PGI doctors' view could be taken on reports of patients through videoconferencing. The centre has been supported by Hewlett Packard under its corporate social responsibility (CSR) initiative. It is fully equipped with a workstation, electronic medical record (EMR) system, biometric patient identification and integrated diagnostic devices.
Top Stories