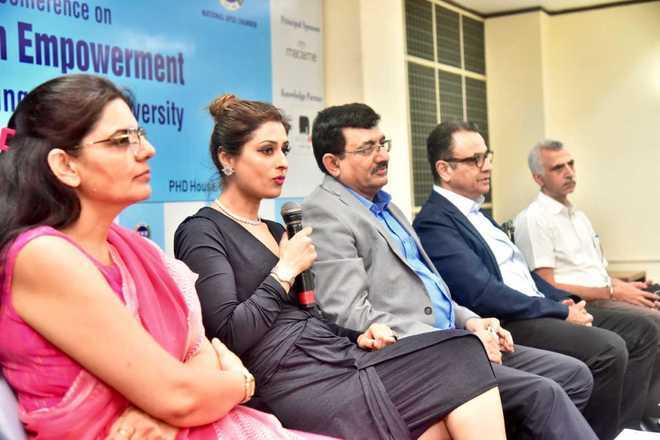 Tribune News Service
Chandigarh, May 24
Experts during a PHD Chamber conference on 'Women Empowerment Leveraging Gender Diversity' today dwelled on bringing out strategic inputs to leverage gender diversity for the growth of organisations and businesses at PHD House, Sector 31 here.
Though women in India excelled in their talent, they were still underpaid at work and deprived of being leaders, the experts opined.
While citing the report reference of Mackenzie, Col Rajiv Bhargava (retd), Associate Director, ISB, Mohali, said, "Women comprise 48.5 per cent of the entire Indian population and contribute only 17 per cent in the national GDP. If we support gender parity, nation's economy by 2025 can be strengthened with 700 billion US dollars."
Another speaker Neetu Prabhakar, Mrs India International 2017, said, "Women are paid 17 per cent less than their male counterparts." Dr Shailja Beniwal, assistant professor, Police Administration and Criminology, MCM DAV College, who is doing a research with the UT Police on Crime Against Women (CAW), revealed alarming figures on false reports while questioning the Indian judiciary.
Earlier, Vikram Sehgal, Chairman, Chandigarh Chapter, PHD Chamber, said organisations could not afford to underutilise nearly half of their workforce. "Companies that don't leverage the potential of women hinder their chances of finding the best leaders while companies with the best record of promoting women outperformed industry revenue by 46 per cent," he said.