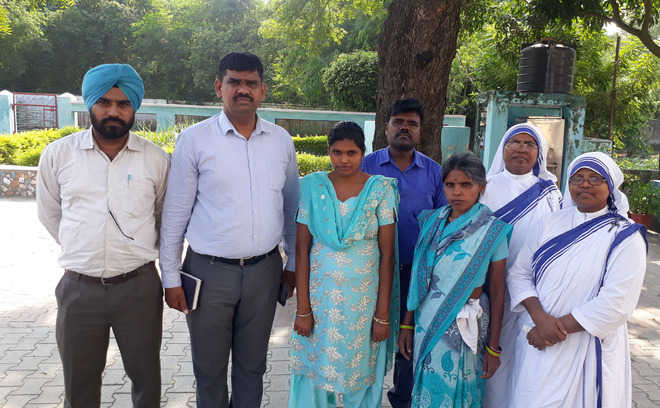 Nitish Sharma
Tribune News Service
Ambala, October 13
It was an emotional reunion for Asha Sondhiya and her 21-year-old daughter Shallu when both of them met at Mother Teresa Home in Ambala Cantonment after seven years today.
Shallu went missing from Satna in Madhya Pradesh in 2012. She reached Ambala Cantonment in 2013 after she was shifted from Delhi.
Happy to see her mother and cousin Pradeep after seven years, Shallu not only consoled her mother but also promised her that she will not escape again.
Shallu said, "One day I got angry as my mother snubbed me. I reached the railway station. I was sitting there when someone made me sit on a train and I reached Delhi.
A few days ago, I don't know how, but I managed to recall the name of my father and village. I swear I will not leave my family again and help them. I want to be self-reliant, study and become something."
Asha, a mother of three daughters, said, "There was no area in Satna where we did not look for Shallu, my eldest daughter, over the past seven years, but to no avail. My mistake was that I didn't make a police complaint of my daughter going missing. This one is going to be a real happy Diwali for us."
The staff at Mother Teresa Home said recently Shallu stated that she wanted to get married. "When she was asked whom she wanted to get married to, she said she had a friend. We managed to keep her engaged over this topic and all of a sudden she told us about the name of her father and village. Her mental condition was not good when she reached here. She had been getting psychiatric treatment and now she is much better," said one of the staff members.
Sister Victorine, in-charge of Mother Teresa Home, said, "We are happy to see her reunite with her family."
ASI Rajesh Kumar and Head Constable Bhupinder Singh of the state crime branch anti-human trafficking unit, Panchkula, said they got information from Mother Teresa Home that Shallu had stated that the name of her village was Karaundi, her father's name was Baijnath and he worked at Pappu Dhaba. "We started working on the details, talked to the sarpanch of the village, who informed that the family had shifted to Satna now. The Kotwali police station in Satna was contacted, and with the help of the police there, we managed to trace the family. We made the mother and daughter talk on a WhatsApp call and they recognised each other. She was handed over to Asha and Pradeep today," ASI Rajesh said.