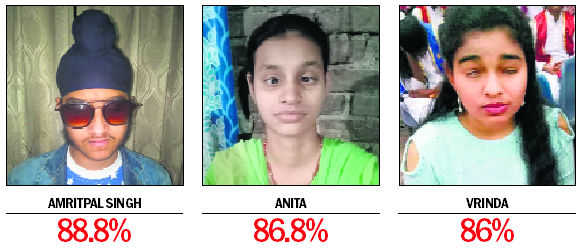 Amarjot Kaur
Tribune News Service
Chandigarh, May 6
Two visually impaired students — Amritpal Singh and Jashanpreet Kaur — topped the Institute for Blind, Sector 26, with 88.8 per cent in the Class X CBSE exam results. Bagging the second place, Anita scored 86.8 per cent, while Vrinda secured the third position with 86 per cent.
Amritpal Singh (16), a resident of Modern Housing Complex, Mani Majra, said, he'd like to become a teacher. "I have never felt different from other kids, for I am as hardworking and determined. I get really excited for new books and want to read them all. Braille and audio recordings came in handy when I started preparing and making notes," he said. While Amritpal's mother is a homemaker, his father works with the Chandigarh Police as an ASI.
Born to an electrician father, who runs his business in a rented shop at Zirakpur, 18-year-old Anita feels she is inching towards her dream of becoming a banker after bagging the second place among the visually impaired. She prepared for these exams using 'talk back' option on her mobile phone, apart from Braille and audio recordings. "In November, I underwent a surgery for an eye and I was on heavy medication. I can use a touch phone and the 'talk back' option was a savior," said Anita who is now learning to play sitar.
Coming from a small village in Kurukshetra, 18-year-old Vrinda, who bagged the third position, is also a national-level athlete.
"When in my village, most teachers failed to cope with my disability. That's when my father's friend suggested that I be sent to the Institute for Blind here. I learnt Braille and studied with an audio aid, thanks to my parents and teachers. I found my lost confidence. I study for five hours daily and I'd like to become a computer teacher," said she.
Top News
Congress MLAs taken out before the CM brings in the confiden...
Sidesteps Indian concern over first arms package to Pakistan...
East Delhi District Magistrate Anil Banka says an evacuation...
Conducted mostly by state police teams, the raids are spread...