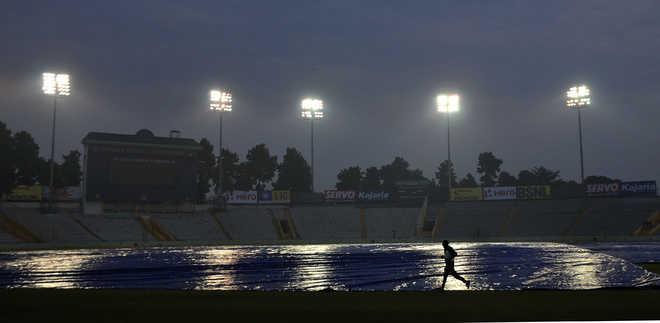 Deepankar Sharda
Tribune News Service
Mohali, December 11
A persistent drizzle today forced the ground staff at the IS Bindra Stadium here to wrap the pitch and the outfield under a thick cover. However, the cricket lovers in the tricity need not to worry as the weatherman has predicted minimum interference of rain for the India-Sri Lanka ODI on Wednesday.
As per the Meteorological Department, the rain is not expected to last for more than a day. However, the outgoing clouds might hamper the play for a brief period on Wednesday. "Though, the conditions are expected to remain cloudy, there are very less chances of rain spoiling the upcoming ODI. The outgoing clouds might hamper the match, but only for a brief interval," said Surender Paul, in charge, Chandigarh Meteorological Department.
"The drizzle was expected on Monday and Tuesday while the conditions are likely to improve on Wednesday. As expected, it would be a partly cloudy sky on Wednesday. The temperature will drop to maximum of 22 degree Celsius. The minimum will settle at 11 degree Celsius. We advise everyone to go and enjoy the match, but dress according to the conditions."
The Punjab Cricket Association is scheduled to host the second of the three-match ODI series between India and Sri Lanka at the IS Bindra PCA stadium in Mohali on Wednesday.
After losing the first ODI in Dharamsala, the Indian team led by Rohit Sharma will be keen to make amends in Mohali and level the series.
"We have taken all the precautionary measures to save the pitch and the outfield from the day-long drizzle. We are fully equipped to clear the ground of any rain water within half an hour of the stoppage," said PCA general secretary RP Singla.
"We hope the rain would stop and cricket lovers will enjoy their favourite players in action here in Mohali," Singla added.
Top Stories
Kohli not dwelling on all-win record against rivals