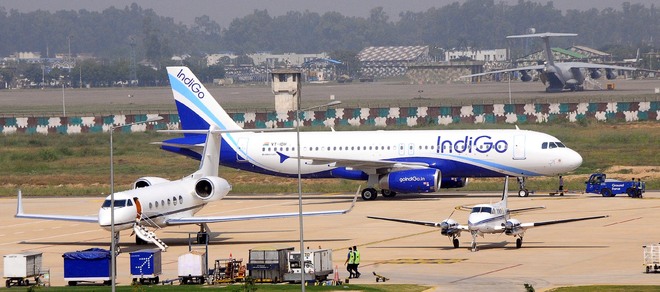 Ruchika M Khanna
Tribune News Service
Chandigarh, November 25
The wait of the city for being connected to international destinations such as Dubai and Bangkok seems to be getting endless. In spite of over two months since the international airport was inaugurated by Prime Minister Narendra Modi, there are no signs of the promised international connectivity.
Though the Punjab Government, reportedly on assurances given by the Government of India, had announced that the city would get its first international flight to Dubai on October 19, it now seems that the international connectivity for Chandigarh is not going to happen for at least another month. As a result, the airport continues to function like a domestic airport, with 16 flights operating in a day.
Though no official date has yet been announced for the flights to take off, at least one airline — Indigo — is expected to start its operations to Dubai by the end of December and thus try and attract the holiday crowd. Officials in the Punjab Civil Aviation Department told Chandigarh Tribune that another airline would be able to start its international flight only in early 2016 as it had a shortage of aircraft and new aircraft were to be added to its fleet only in early 2016.
Sources said two airlines — Indigo and SpiceJet — had reservations about starting international flights because of two reasons. The first being the possibility of the runway being shut down for resurfacing and the second was an adequate air traffic control staff to handle flight operations. At present, the existing ATC staff, which belongs to the Air Force, caters to only their own flying requirements. Additional flights would require more number of air traffic controllers. One of the airlines, that was supposed to start a flight from Chandigarh on October 19, did not apply for a parking slot at the Dubai airport for fear that the flight operations would have to be suspended in case the runway resurfacing has to be done. The Ministry of Defence has assured that a parallel taxi track will be constructed though reservations have been expressed on whether it will be fit enough to handle commercial flights.