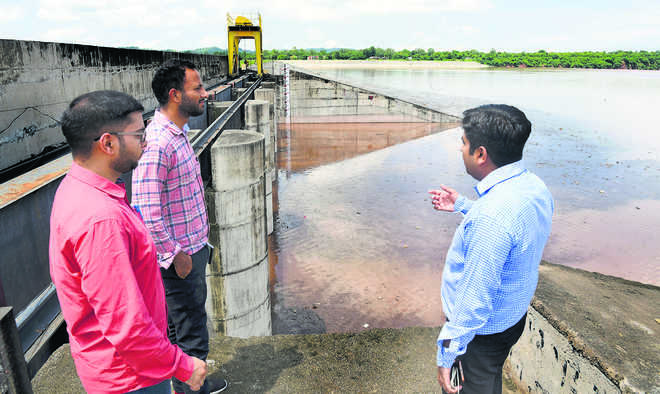 Sanjay Bumbroo
Tribune News Service
Panchkula, August 19
The rising water level of Kaushalya Dam due to incessant rain over the past three days is giving sleepless nights to residents of Rampur Seuri village near Surajpur where at least 12 houses were damaged after the authorities had to release water from the dam last year.
Ramphul, a resident of the village, said incessant rain in Himachal Pradesh during the past three days raised concerns about the safety of their houses as water from the dam could be released anytime. He said yesterday a police team had visited the village and cautioned them about the possible release of water from the dam. He said he and his wife had to spend the night awake as they did not want to take any chances.
Another resident, Tinku, said though the Irrigation Department had constructed the bundh on the banks of the river, last year's experience was giving them the jitters. He said they were keeping a continuous vigil over the situation. There are over 100 houses in the locality, set up by labourers on the river banks, he said. Last year, three houses were washed away, while nine had developed cracks in the village.
DC Mukesh Kumar Ahuja has issued directions to officials dealing with disaster management not to leave their stations till the situation returns to normal.
Irrigation officials are keeping a constant watch on the water level, which has reached 477 metres, just 1 metre short of the danger mark. They are blowing warning sirens from the dam from time to time. Sandeep Kumar, Executive Engineer, Irrigation Department, said spillway gates of the dam were being opened after the water level rose, but they were ensuring that the released water did not cause any damage to houses along the river.