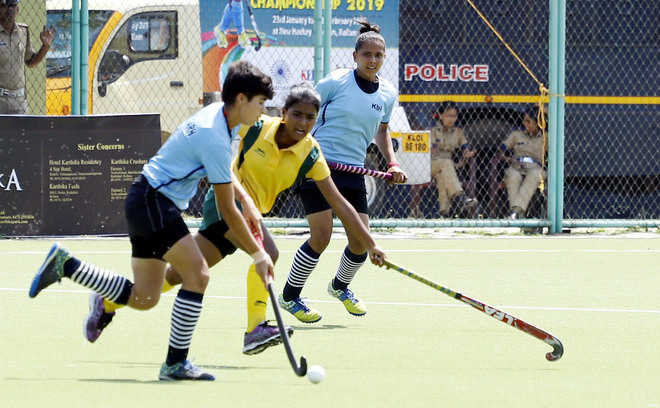 Tribune News Service
Chandigarh, February 3
Kavita scored six goals as Hockey Chandigarh defeated Chhattisgarh Hockey 10-0 to register their first win of the 9th Hockey India Junior Women National Hockey Championship 2019 (A Division), at the Kollam Hockey Stadium, on Sunday.
Kavita netted the first in the second minute, followed six more goals-10th minute, 33rd minute, 40th minute, 50th minute and 58th minute. Priyanka added two (29th minute, 38th minute) goals, while Monu (8th minute) and Kirandeep Kaur (14th minute) added one each to the winning tally.
Hockey Punjab also registered a convincing 9-0 win against Hockey Coorg. Mitali starred in the win with contributing three (8th minute, 50th minute, 57th minute) goals, while Baljinder Kaur added two (15th minute, 58th minute).
Rozy Bharti (4th minute), Sanjana (27th minute), Sneha Sabharwal (37th minute) and Harpreet Kaur (56th minute) also contributed a goal each. Anu meanwhile scored two goals in Hockey Haryana 5-2 win against Sports Authority of India. She netted the first goal in the 13th minute, followed by another in the 20th minute. Skipper Amandeep Kaur (10th minute), Manju Chorsiya (15th minute) and Simranjeet Kaur (24th minute) also scored a goal each. Gayatri Kissan (40th minute) and Anjali Mahto (60th minute) came up with one goal each to reduce the margin for Sports Authority of India.
Madhya Pradesh Hockey Academy played a 2-2 draw against Hockey Jharkhand. Yogita Verma (29th minute) and Yogita Bora (38th minute) put Madhya Pradesh in lead, however Toppo (43rd minute) and Poonam Mundu (47th minute) cancelled the goals to confirm a draw for Jharkhand.
Hockey Himachal also played a 2-2 draw against Hockey Maharashtra. Radha put Himachal ahead in the 3rd minute, but Maharashtra's Rutuja Pisal (51st minute') and Gauri Shinde (57th minute) make it 2-1 in their favour. However, in the last minute of the match, Komal Rohilla scored to earn a point for Himachal. In the last match, Hockey Mizoram defeated Hockey Gangpur-Odisha 2-0.
Top News
Congress' state in-charge says the party is tipped to get th...
Launches attack against nepotism and graft; seeks collective...
Says Congress will oppose attempts to put leaders like Gandh...
Chandrashekhar Harbola was part of a 20-member troop that wa...
One attack occurred at a minority habitation in Chadoora in ...