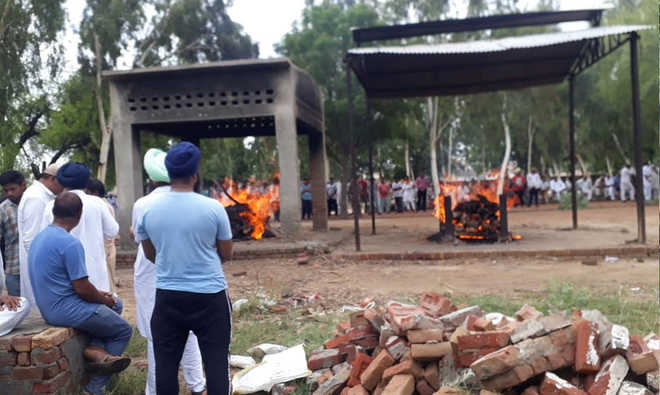 Amit Sharma
Tribune News Service
Chandigarh, August 17
Twenty-eight-year-old Manpreet Kaur, who was murdered along with her younger sister Rajwant Kaur (27), was stabbed around eight times on different parts of the body. Rajwant had three injury marks on her neck. The sisters were found murdered at their rented accommodation in Sector 22 here on August 15. The victims were strangled, stabbed with a sharp weapon and their heads were smashed against an almirah.
The police said the suspect, Kuldeep Singh (30), repeatedly stabbed Manpreet with a pair of scissors as he wanted to ensure that she does not survive. "She had two injury marks on her neck, besides injuries on her head, shoulder and back," police sources said.
Rajwant was stabbed thrice on her neck. "Since the prime target was Manpreet, her sister had three stab injuries," the sources added.
Manpreet's closeness to a friend, Karan, had made the suspect jealous.
After a break-up with Kuldeep, Manpreet became close to Karan, which led to her murder, revealed the interrogation of the 30-year-old suspect, who was arrested from Delhi on Friday.
Manpreet and Kuldeep were in a relationship for the past around nine years; however, they developed differences around six months ago, after which Manpreet came in touch with Karan.
"Karan was known to Rajwant's friend Honey. Through Honey, Manpreet came into contact with Karan and they became good friends," the police sources said.
On August 12, there was a langar near the victims' house where Karan and Kuldeep had also come. Manpreet ignored Kuldeep, which left him annoyed. Following this, Kuldeep decided to check Manpreet's mobile phone and confront her.
Suspect in two-day police remand
The suspect, Kuldeep Singh (30), son of a retired UT police inspector, was produced in a court on Saturday. The court sent him to two-day police remand. The suspect, a resident of Zirakpur, was arrested from the New Delhi railway station.
Busy, Cop gets rakhi tied near spot
The double murder that shook the city kept all cops on their toes for several hours. Sub-Inspector Satnam Singh, Incharge, Sector 22 police post, was the one under whose jurisdiction the crime took place. His sister Sunita had arrived from Pinjore to tie him a rakhi. Satnam, who was at the crime spot, failed to visit his house in Sector 42 and kept her waiting. Following this, his sister arrived at the crime spot and tied him a rakhi while sitting in a car, a few meters away from the house where the two sisters were murdered.