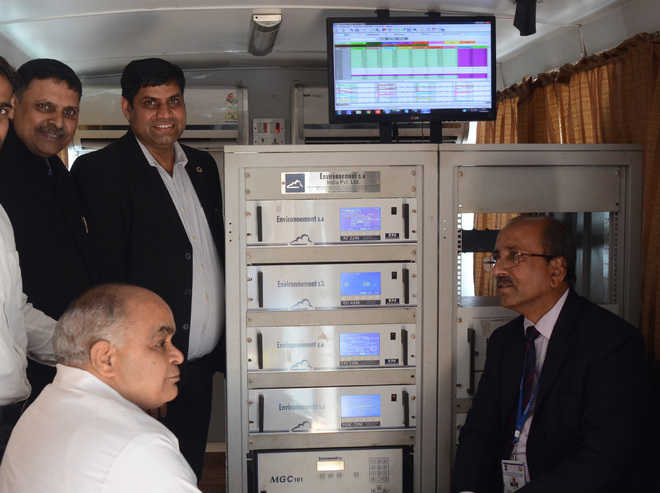 Tribune News Service
Chandigarh, March 12
The PGI Director, Prof Jagat Ram, today inaugurated the multi-city summer air quality campaign, being jointly conducted by the Department of Community Medicine and School of Public Health, PGI, and Panjab University in collaboration with the Indian Institute of Tropical Meteorology (IITM), Pune.
The air quality in Haryana and Punjab will be monitored using the state-of-the-art continuous air quality laboratory on wheels.
Prof Jagat Ram said such initiatives were needed for better understanding of air pollution and its association with various diseases such as stroke, heart disease, chronic obstructive pulmonary disease, lung cancer and acute respiratory infections to plan risk-reduction measures.
Prof Arun Aggarwal of the PGI said the air quality data generated using the mobile van could be used to create awareness about air pollution and motivate units to curb their emissions.
Dr Ravindra Khaiwal, Additional Professor of Environment Health, PGI, said the multi-city campaign would be useful to understand the air quality in tier II cities and to support the national clean air programme (NCAP). He said the NCAP was launched in January by the Government of India to reduce air pollution by 20-30 per cent in over 102 cities of India, including Chandigarh, by 2024.
The air quality lab on wheels has been placed in Sector 25, Panjab University. School students, researchers and others interested are welcome to visit and learn about air quality.
Top News
A similar attack in November last had crippled hospital regi...
The network, which operated in the darknet and used cryptocu...
Flight, carrying 216 passengers and 16 crew, lands safely
Police had to resort to water cannon and lathicharge to disp...
The man was seen losing his cool on his co-workers for not s...