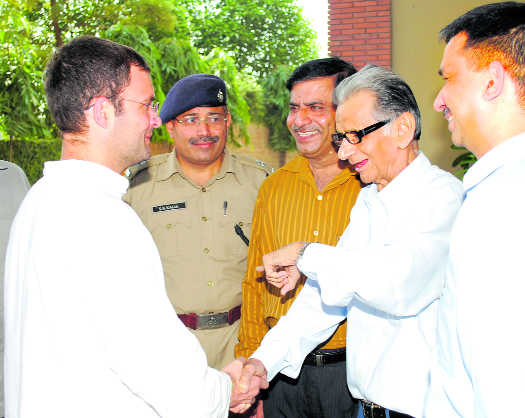 Aakanksha N Bhardwaj
Tribune News Service
Jalandhar, June 19
Vijay Kharbanda, the man who made the city famous while staying away from the limelight and retaining his humility, passed away on Sunday evening. He was 77.
Kharbanda, who had a troubled childhood after getting uprooted from Sialkot during the Partition in 1947, grew up to become a trailblazer with a great vision. He dared to act differently and set up his own brand called NIVIA Sports in 1961.
During those days, the sports industry was in its infancy and most businessmen avoided making investments in the sector. Today, the brand needs no introduction as its wide range of sports products are being used across the globe, earning a distinct identity for the city.
Vijay Kharbanda always believed in local talent and groomed the people who were less educated and gave employment to thousands who were in need. NIVIA was named by combining the initials of the name of his father Nihal Chand Kharbanda and that of his own (NI from Nihal and VI from Vijay).
A post-graduate in political science from DAV College, Jalandhar, Kharbanda started his journey by visiting the National Institute of Sports in Patiala where he spent quality time to learn about the requirements of different players and the needs of the Indian sports industry.
Talking about his father's days of struggle, an emotional Rajesh Kharbanda, managing director of the company, said, "When he used to go to sell his products, people would not even offer him a chair to sit and would suggest that he sell his footballs by inscribing 'Made in Calcutta' on them. They used to think that good products cannot be made in small cities like Jalandhar. But then, as time passed, the persons who earlier refused to buy footballs from my father, started requesting him to send his products to them."
Now, NIVIA's footballs, volleyballs and several other products are being used worldwide in many national and international tournaments. The brand has a big role to play in making Jalandhar a hub of the sports industry, as it is known today.
Sharing another achievement of his father, Rajesh Kharbanda said, "In the 80s, my father thought that leather football shoes, which were being used by sportsmen then, were quite basic. My father was the first to launch football shoes with moulded sole in India." He was an innovator and always focused on catering to the needs of sports persons and improving the sector, he added.
Former Director General of the Sports Authority of India, Dr CM Muthiah (85), remembers his friend Vijay Kharbanda as a great individual. "He was very sincere in his work. We met in Patiala for the first time and since then, we had built a good friendship," he said.
Ravinder Dhir, president, Sports Forum, Jalandhar, remembers Kharbanda as a trend setter. "His hard work made Jalandhar famous," he said.
Top Stories