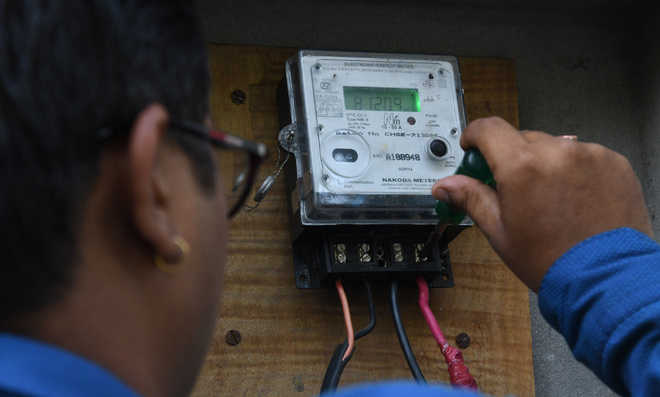 Ramkrishan Upadhyay
Tribune News Service
Chandigarh, April 15
Shortage of electricity meters has badly hit power consumers in the city who have been forced to buy it from the market at a cost double what the department charged for the device.
Sources said it had been over six months that consumers failed to get meters from the department.
Sources said the UT Administration had made a budgetary provision of around Rs 7 crore for the procurement of material, including electricity meters, last year.
SK Nayar, president, Indian Citizens Forum, said in violation of the direction of the Joint Electricity Regulatory Commission (JERC), the department has restricted the number of approved vendors for supply of single-phase meters to three.
On April 16, 2014, the department approved single-phase meters manufactured by only three companies, Secure Meter, Genus Power Infrastructure Limited and Genus Innovation Limited.
Interestingly, the department did not include in the list of approved vendors a company from which it purchased 10,000 meters in 2018 at the cost of Rs 26 lakh.
As per the information procured under the RTI Act by Sunil Jain, a resident, the meter costs only Rs 522, which is much cheaper than the price at which it is sold meters in the open market.
Nayar said though it was optional for consumers to get meter from the market, they were left with no choice when these were not available with the department.
If a consumer doesn't want to purchase meter from the market, he will have to pay a monthly rent of Rs 20 to the department after depositing Rs 200 as security.
Narinder Singh, another resident, said it was the responsibility of the department to change the meter free of cost if it was burnt due to its fault. However, the residents were being forced to buy it from the market even in such cases.
RK Garg, president, Second Innings Association, said the delay in procuring meters needed to be probed as it was causing a loss to the department too.
The city has more than 2 lakh power consumers.
When contacted, Mukesh Anand, Special Secretary, Department of Engineering Administration, said he would get the issue checked, adding that steps would be taken for the procurement of electricity meters soon.