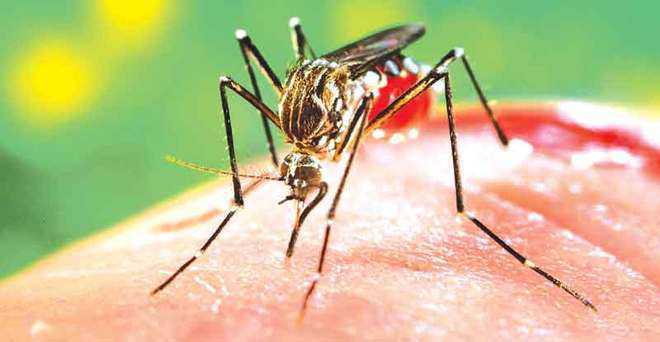 Tribune News Service
Mohali, November 12
Mohali district has witnessed a sudden spurt in cases of dengue with 42 confirmed cases reported in the past 10 days. So far, a total of 137 cases have been reported from the district.
Giving this information, the Mohali Civil Surgeon, Dr Manjit Singh, said dip in temperature led to increase in dengue cases.
"October month recorded a total of 39 dengue cases. Temperature ranging between 15 degrees Celsius and 30 degrees Celsius is considered best for breeding of Aedes Aegypti mosquitoes," said Dr Manjit.
The Civil Surgeon said though there was an increase in dengue cases in the district, the area had witnessed around 80 per cent decline in the cases as compared to the figures of the previous year.
He said this year the maximum number of cases had been reported from Mohali town. "The focus is completely on source reduction to check dengue, also known as 'break bone fever'," said Dr Manjit Singh, adding that health teams had been continuously surveying houses and issuing challans to households where dengue larvae were being found.
He said: "There is no need to panic as transmission season will end soon. We have to take precautionary measures till November. People are advised to clean water and do not let it accumulate as only 5 ML of water is enough for breeding of Aedes Aegypti mosquitoes. The recent spell of rainfall has reduced the spread of dengue".
The Health Department of Mohali has also directed the Municipal Corporation to make a proper schedule for carrying out fogging in the residential areas. The MC is doing extra fogging these days to control the disease. Various programmes have also been organised by the department to create awareness among the public.
---
Watch out for these Symptoms
Fever for three to seven days, intense headache, pain behind eyes, severe joint and muscle pain, skin rashes, vomiting and diarrhoea.
Dos
Use screens on doors, windows.
Remove stagnant water.
Use mosquito nets or repellents while sleeping.
Remove water from coolers, refrigerator trays & containers.
Carry out sponge bath to bring fever down and take paracetamol.
Don'ts
Don't give aspirin or ibuprofen for fever, don't use antibiotics.
Don't turn away spray workers whenever they come to spray your house.
Avoid densely populated residential areas.
Don't allow water to stagnate in bird-feeding pots.