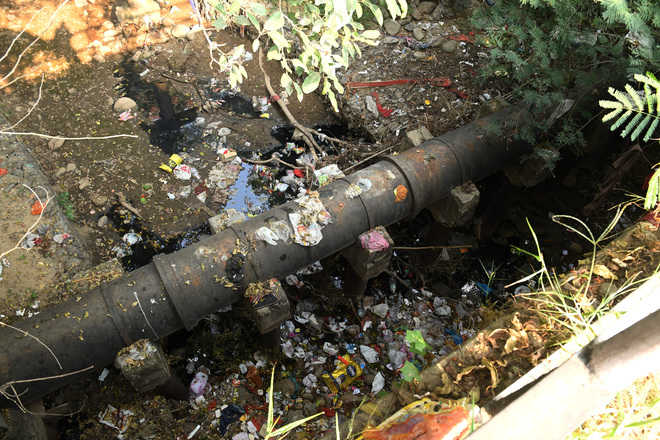 Ramkrishan Upadhyay
Tribune news service
Chandigarh, October 14
After sewage, the N-choe has started facing another challenge. The choe has become a dumping ground for malba (waste construction material). In the absence of any checks by the authorities concerned, some residents and contractors have started throwing malba into the choe.
LR Budania, an environmentalist, said the N-choe and the Sukhna choe were the lifelines of the city. Any attempt to pollute or cause a hindrance to the natural flow of water in the choe would result in heavy flooding in the city. Rainwater in the city flows through the choe.
He said if immediate steps were not taken, heaps of malba would accumulate in the choe and it would become a herculean task to remove it.
Budania said throwing debris into the choe had become a regular feature and contractors did so at night. Huge malba can be spotted at three places — Sector 36, Sector 23 and Sector 10 — in the choe. The pollution in the N- choe is already under the scanner of a panel formed by the National Green Tribunal (NGT), headed by Justice Pritam Pal, a former Judge of the Punjab and Haryana High Court. The NGT had formed the panel to check pollution in the Ghaggar and restore its water quality.
The N-choe originates near the Punjab Civil Secretariat in Sector 2, Chandigarh, and passes through Bougainvillea Park in Sector 3, the Leisure Valley in Sector 10, Rose Garden and Shanti Kunj in Sector 16 and then through Sector 23, 36, 42, 53, Kajheri in Sector 52 and Sector 51, and later merges into the Ghaggar.