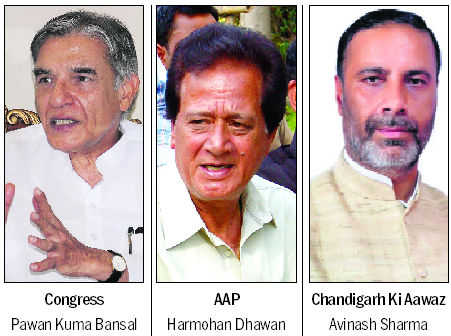 Tribune News Service
Chandigarh, April 21
The UT Administration has made all preparations to accept nomination papers for the Lok Sabha elections from tomorrow.
With the notification for the elections to be issued tomorrow, the nomination process will also start simultaneously.
The Election Commission of India has fixed the elections for the Chandigarh seat in the seventh phase.
The nomination papers will be filed till April 29. The scrutiny of the papers will take place on April 30. The candidates can withdraw the nominations till May 2. Polling will be held on May 19.
The nomination papers can be filed between 11 am and 3 pm at the office of the Deputy Commissioner in Sector 17. Counting of votes will take place on May 23.
Mandeep Singh Brar, Deputy Commissioner-cum-returning officer, Chandigarh, said all arrangements had been made for the elections.
Only five persons, including the applicant, will be allowed to enter the office of the returning officer to file nominations.
A Deputy Superintendent of Police (DSP)-level officer, along with around 45 policemen, will be deployed to ensure security.
As many as 6,19,619 voters will exercise their franchise in the elections. The number of male voters is 3,28,271, that of female 2,91,329, while the number of service electors is 355.
The list was prepared with January as the qualifying month. Around 10,000 more applications have been received since then which are now being processed and will be published on April 30. This time, 597 polling stations have been set up in this constituency.
Around 3,500 employees have been deployed on election duty.
The Congress, the Aam Aadmi Party and Chandigarh Ki Aawaz have announced their candidates, while the BJP is yet to name its nominee.
No truck with Cong, says AAP
AAP leaders have made it clear that the party will not have an alliance with the Congress. Prem Garg, convener of AAP, Chandigarh, said Dhawan had been asked to file his nomination papers. He said a delegation of the local unit of AAP met Sanjay Singh, a Rajya Sabha member of the party, in Delhi and was assured that no discussions were going on about any alliance for the Chandigarh seat.