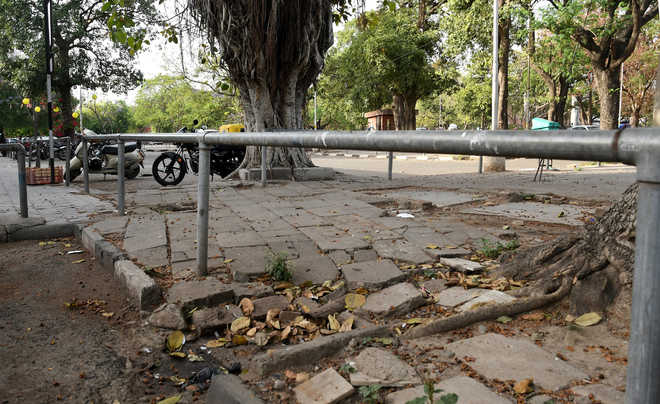 Ramkrishan Upadhyay
Tribune News Service
Chandigarh, April 21
Shortage of space for parking, broken tiles and railings are some of the problems plaguing the markets of the Sector 29-C and Sector 29-D.
Apparently, both markets are catering to the needs of the entire sector and rehabilitation colonies.
Amit Agarwal, president of the Market Welfare Association, Sector 29-D, says re-carpeting of the parking area has been pending for a long time now.
Railings of the market are broken at several places and need to be replaced or repaired. He said there was need to increase the police patrolling as several anti-social elements sit near the market till late in the night and drink in cars.
Dr Amarjit Singh Sachdeva, chairman of the Market Welfare Association, Sector 29-D, said earmarking the parking space for two-wheelers and four-wheelers was required.
Another trader HS Arora says the market also needs high mast lights as the existing ones are insufficient.
Raj Aggarwal, a trader from the booth market, says there is only one entry point in the market due to which they face the problem of parking.
Sanjiv Kumar Chawla, general secretary of the Market Welfare Association, Sector 29-C, said the toilets in the market were not in a good state. "The MC should expand the parking area by removing railings. The parking area is dotted with potholes. Paver block and tiles are damaged at many places," he said.
Harish Chander Chhabra, chairman of the Rehri Market Association, Sector 29-C, says the administration has not constructed booths for them for the past 27 years. The licences for 23 'rehri' markets were issued in the 1991. Out of 23, the administration has allotted pucca booths in 20 'rehri' markets.
Traderspeak
The booth market of Sector 29-D has a single entry and exit. Due to this, parking problem has been persisting. Raj Aggarwal
The Sector 29-C market is plagued by the parking issue. The area can be expanded by removing railings. Sanjiv Kumar Chawla
Parking is a major problem at the Sector 29-D market. Paver blocks and tiles are broken at several places. Dr Amarjit Singh Sachdeva
The UT Administration has not constructed booths for the rehri market in Sector 29-C for the past 27 years. Harish Chander Chhabra
Councillor speak
The tender for the re-carpeting of the parking area has been allotted and the work will be started soon. Other problems will also be taken care of. Shakti Prakash Devsali, Councillor