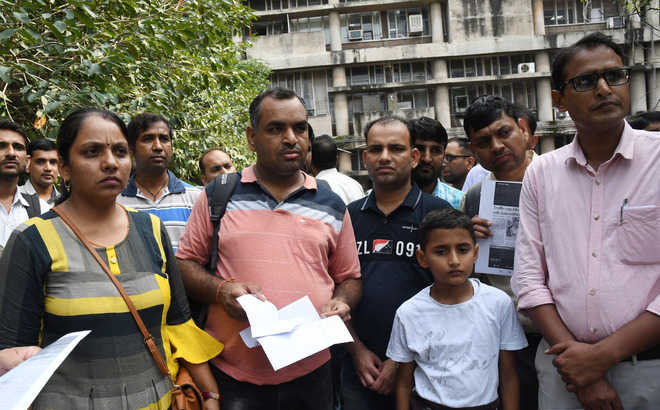 Chandigarh, September 16
The nursing officer, who has alleged an assault by the DSP (Traffic), along with his wife and members of the PGI Nursing Members Association, today met SSP (Traffic) Shashank Anand, demanding a legal action against the DSP.
Meanwhile, DSP (Traffic) SPS Sondhi also met the SSP and narrated his side of the story. The SSP (Traffic) said he heard both sides in detail, however, some more details were required to be ascertained before coming to a conclusion.
Shiv Nath, a nursing officer, had on Saturday alleged that he was assaulted by DSP SPS Sondhi in Sector 22. Shiv Nath was returning after attending a parent-teacher meeting with his two children and wife on a motorcycle when he was stopped by the DSP as his wife and two children, aged 4 and 10, were not wearing helmets. Shiv Nath had alleged that he was punched on his nose by the DSP, while the DSP had claimed that Nath held his collar and when he opened the door of the vehicle, the door hit Nath's helmet following which he suffered an injury. The incident led to high drama. Nath had to meet SSP Nilambari Jagdale. Since she was not available, he met the SSP Traffic. Nath claimed that he was handed over a copy of DDR yesterday. He claimed that cops made him wait for around six hours before they handed over the copy of the DDR. — TNS