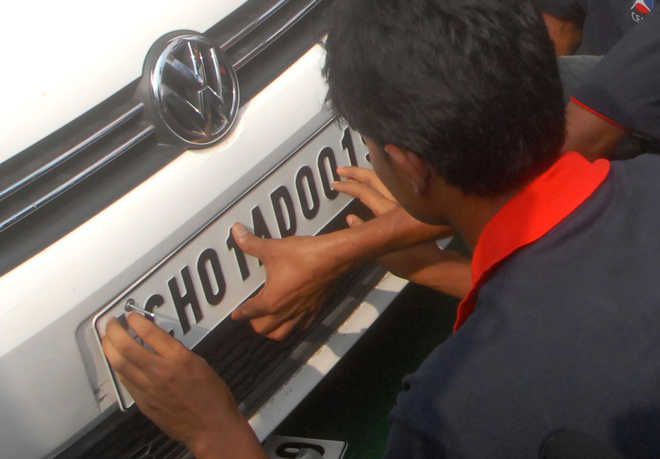 Amit Sharma
Tribune News Service
Chandigarh, February 5
The number of vehicles registered in Chandigarh has witnessed a steep rise in the past 18 years. Of the 11,62,623 vehicles registered with the UT Registering and Licensing Authority (RLA), 58.82 per cent were registered between 2001 and 2018.
As per official records, between 45,000 and 50,000 vehicles are added to the city roads every year.
Since 2001, 6,83,917 vehicles have been added to the city roads. Two-wheelers and four-wheelers comprise the maximum number of vehicles registered in the city every year.
Till 2000, a total of 4,73,361 vehicles were registered in the city. The registration of vehicles started increasing post-2000. In 2001, 22,739 vehicles were registered with the RLA and the number kept soaring after that.
The figures of vehicle registration in 2018 was 46,849, of which 17,293 were four-wheelers, 28,245 were two-wheelers, 997 goods vehicles, 160 buses, 139 three-wheelers and 15 tractors.
During the past 18 years, the maximum number of vehicles registered was in 2012 when 51,259 vehicles were registered followed by 2010 when 50,042 vehicles were registered.
The rising number of vehicle density has led to congestion on the roads, further leading to traffic snarls. To accommodate the increasing number of vehicles, roads are being widened by the UT and many new slip roads have been constructed in the city.
Harman Sidhu, president, Arrive Safe, an NGO that works for the cause of road safety, said spiralling number of vehicles had hardly left space for pedestrians to walk. "Strengthening the public transport and encouraging people to use it is the need of the hour," he said.
---
11,62,623 vehicles Registered with RLA
A total of 11,62,623 vehicles have been registered with the UT RLA till 2018, and the number is counting.
Two-wheelers top chart
Of the 6,83,917 vehicles registered in the past 18 years, 3,95,548 were two-wheelers and 2,70,052 four-wheelers, besides other vehicles.
Top News
She is administered the oath of office on Tuesday morning
AAP and Bharat Rashtra Samithi, however, say no to discussio...
Soon after the House meets at noon after the first adjournme...
A man who was in the court to attend a hearing attacked alle...
The three artistes -- Adam Berry, Gurujas and Harijiwan -- a...