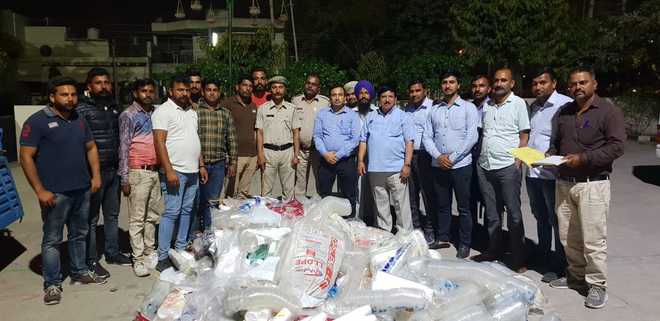 Tribune News Service
Panchkula, April 1
Officials of the Municipal Corporation raided various business establishments in the city today and recovered Rs 73,000 as fine after challaning 49 shops for using polythene.
An MC team, led by Executive Officer Jarnail Singh, raided the shops located in various parts of the city and seized plastic stuff lying there. Almost a truckload of polythene and plastic items was confiscated by the MC team.
Shopkeepers selling plastic goods and using polythene bags were given stern warning, said MC officials.
Sharing details, Executive Officer Jarnail Singh said a team was formed in the evening today to carry out a drive and challan shopkeepers using polythene bags. He said sanitary inspector Naresh Malhotra, Junior Engineer Narsingh, a Home Guards team, members of the enforcement wing and the PCR accompanied them.
Jarnail Singh said vegetable and fruit vendors were found using polythene bags. He added that awareness was created among them not to use polythene. He said shopkeepers were also warned against purchasing polythene from wholesalers.
Municipal Commissioner-cum-Administrator Rajesh Jogpal said expansion of facilities in the modern era had hurt the environment most. He said polyethylene invented for the convenience of people has become the biggest headache for mankind today. He said as polythene could not be destroyed, it was mixing in the earth. He added that burning of polythene emitted carbon dioxide, carbon monoxide and toxic gases, causing breathing problems and skin diseases.
Top News
DNV Senthil Kumar on Tuesday triggered a row by using a pejo...
The DMK MP's remark on Hindi heartland states had led to a f...
The 30-share BSE Sensex jumps 303.25 points, or 0.44 per cen...
A senior police officer says security has already been stepp...
Gajapati district administration announces closure of school...