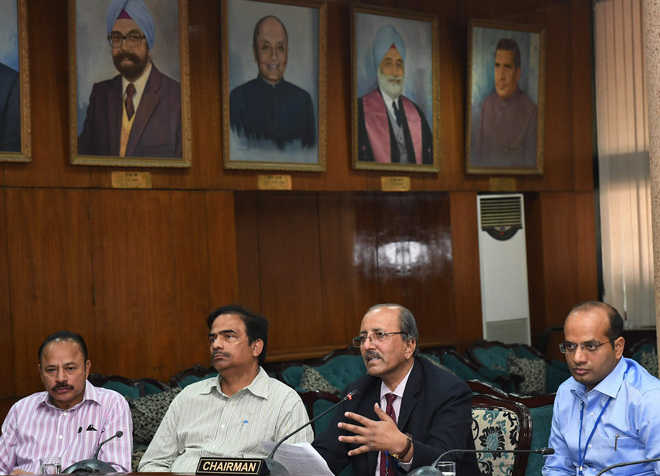 Tribune News Service
Chandigarh, March 15
After completing a year in the office, Prof Jagat Ram, Director, Postgraduate Institute of Medical Education and Research (PGIMER), today presented the report card and listed out achievements.
He said 44 cadaver donations and 107 transplant surgeries helped reach the premier health institute on the top position in the country among public hospitals.
"The first lung transplant took place in July last year and successful simultaneous kidney and liver transplants also carried out earlier this year, a first by any public hospital," said Prof Jagat Ram.
PGIMER was also conferred with the health excellence award at the World Hospital Congress at Taiwan.
"The actual eye donations have also increased. Previously it was 350, now, it had crossed the 650 mark.
The PGI has also started treatment for liver cancer last year," said Professor Jagat.
Infra gets a push
Prof Jagat Ram said various projects were at a standstill when he assumed charge.
"The work of 250-bedded hospital is near completion. I am confident that the work will be completed by the end of the year," he said.
Satellite centre in Sangrur
He said a temporary OPD had started successfully in Sangrur and now, the work for setting up the 300- bedded satellite centre was in progress and the work would be completed this year.
Big projects approved
He said in a significant development for future, approval was given to two big projects — mother and child care and centre and advance neurosciences centre.
"A satellite centre in Una, Himachal Pradesh, was approved but currently our focus is on mother and child care centre and neurosciences centre," said Professor Jagat.
Availability of stents, orthopaedic implant
The PGI Director said the availability of stents and orthopaedic implant at the government-run AMRIT pharmacy at reduced rates was a development.
"We have instructed the AMRIT pharmacy to make all medicines available so that people should not go out in markets to but medicines," he said.
DDA assures action in lab test row
"The lab test controversy in the PGI is historically been an issue. We have been provided visiting cards and it is an impression that certain private companies have a role to play in conducting the test which otherwise should be available in the PGI. Surgical materials and implants which are reportedly entering the PGI through certain routes. The stand of PGI is straight. We are not going to tolerate this as we have directed the security not to allow anyone unauthorised coming to Nehru Hospital. We will take strict action against the guilty," said Amitabh Awasthi, Deputy Director, Administration.
Dr AK Gupta, Medical Superintendent, said there would be a zero-tolerance approach and police case would be registered against anyone found involved in the nexus.
Measures to ease rush at PGI
A Digital Display System (DDS) will be introduced in all 15 departments of the PGI. "The name and the appointment number of the patients will be display under the system. It would not happen that a patient coming at 7am would be sitting till 3pm. The patient will be attended to in a two-hour slot," said Awasthi.
Getting a card made was the most difficult thing, admitted Awasthi.
People gather outside the OPD as early as 5 in the morning to get their cards made.
"We are going to introduce kiosks in certain areas equipped with machines. We will also provide the manpower to assist people. The machines will help provide both registration card and the appointment with the doctor. Thereby, it will save a lot of time of patients," said Awasthi.
Sarangpur land deal
Prof Jagat Ram said the 50-acre Sarangpur land deal and the project of shifting the OPD was still in limbo. He said recently he had given a representation to Governor VP Singh Badnore and requested him to look into the matter.
"We can only serve people. We are not in a position to pay Rs 1,100 crore or for that matter, the base price of Rs 200 crore," he said.
More patients come to OPD
The number of patients has been increased from 9,000 to 11,000 daily at the PGI OPD. It shows that people have faith in PGI doctors. We are in constant touch with our neighbouring states and keep telling them to strengthen their primary health system. Secondly, the maximum number of patients after Punjab are from Chandigarh so the authorities in the city also need to pull up their socks. — Prof Jagat Ram, Director, PGIMER
The achievements
Nehru Hospital gets a total of 1,948 beds.
Number of patients admitted to Nehru Hospital in 2017: 95,135.
Efforts on to ease rush at the Emergency.
CCTV cameras increased from 33 to 182.
Top News
According to Rushdie's agent Andrew Wylie, nerves in his arm...
Natwar was Minister of State for External Affairs when Rushd...
All the four employees were dismissed from service under Art...
The exam was postponed for 11,000 candidates to accommodate ...
Had submitted resignation in Jan 2019 and floated his own po...