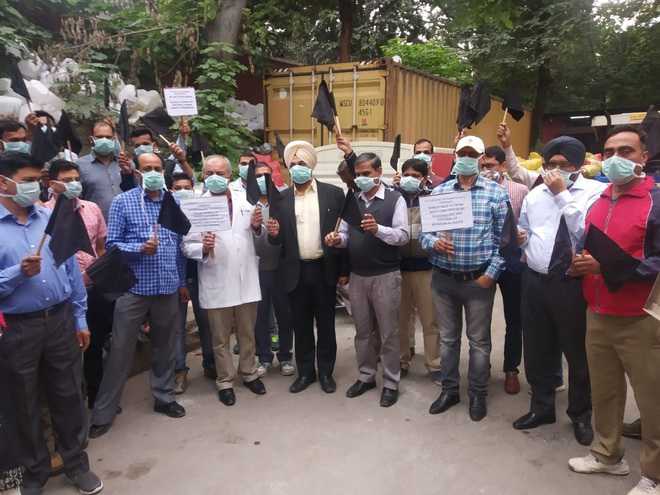 Tribune News Service
Chandigarh, November 13
Members of the PGI Employees' Union (Non-Faculty) and the PGI Medical Technologists Association today took out a silent protest march while holding black flags and wearing masks against non-shifting of biomedical waste from behind the central stores of the institute.
Union president Ashwani Kumar Munjal said the hospital administration did not pay heed to their repeated requests for shifting the biomedical waste and stopping segregation activities behind the central stores.
The hospital administration had been violating the directions issued by the National Human Rights Commission (NHRC) dated July 7, 2017, he said. There was no improvement in handling and disposal of biomedical waste, which posed risk to patients, public and staff, he added.
The NHRC had directed the hospital administration to shift the central refuse centre/garbage storage area to a reasonable distance from the hospital and properly gate it to avoid any intrusion by men and animals, he said. On the contrary, the hospital authorities got it shifted near Nehru Hospital behind the central stores in October last year, he added.
"Biomedical waste can be seen lying on the road in front of new central refuse station and the entry of unauthorised persons and animals is not restricted. Hundreds of patients, general public and staff visit Nehru Hospital every day," he added.