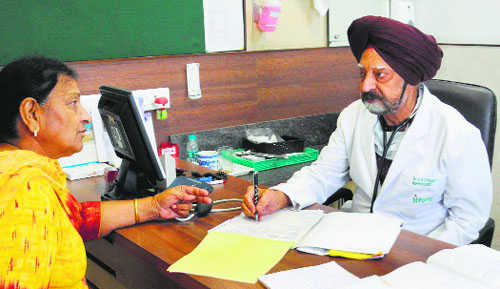 Mukul Bansal
Prof KS Chugh, the son of a small farmer in Patti (Punjab) — born in 1932 — fought against all odds in that small village, rising to become an emeritus professor of nephrology and is now a former professor and head, Department of Nephrology, PGI, Chandigarh. Professor Chugh was honoured with the Belding Scribner Trailblazer award by the International Society of Haemodialysis and Dr Ziblut Twardowski Life Time Achievement Award for his contribution to the science and practice of renal medicine in the US last year.
He is a renowned nephrologist and is known as the "father of nephrology" in India.
Professor Chugh started postgraduate training facilities for awarding doctorate in medicine (DM) degree in nephrology at the PGI in 1969. "The first batch qualified in 1971, one year before this examination took place in the US in 1971," he says.
He has trained the largest number of fellows in nephrology in his three decades at the PGI, before he retired in 1993. Some of the fellows trained at the PGI are currently recognised as world leaders in nephrology.
That Professor Chugh is a trailblazer in the field of nephrology in India – and abroad – is borne out by the fact that because of the prevailing economic conditions in the country in the 1960s and the difficulties in procuring foreign exchange for importing expensive monitoring machines for dialysis, he developed improvised techniques to provide affordable dialysis to patients suffering from kidney failure, without the assistance of these machines.
He devised a simple tank system for hemodialysis and designed Arterio Venous Shunts for vascular access by using locally available Teflon. Since commercial peritoneal dialysis catheters, which were being used in advanced countries, were not available and had to be imported, he made these catheters with polythene tubes with the help of the Central Scientific Instruments Organisation (CSIO) and successfully carried out peritoneal dialysis in several hundred patients.
Because of these innovations, Dr Christopher Blagg, a world-renowned dialysis expert who visited the PGI on several occasions and saw these innovations, started referring to Professor Chugh as the "Belding Scribner of India".
Professor Chugh passed MD (Medicine) with kidney diseases in 1961 and became the first qualified nephrologist of India. "There is a little story behind it. After passing MBBS in 1955, I applied to Panjab University for permission to do post-graduation in MD (Medicine) with 'kidney diseases' as a specialty.
"The university refused such permission initially and I was dubbed as 'crazy'. Instead, I was advised to do post-graduation in gastroenterology, cardiology or neurology since these were the only three specialties recognised at that time. After several representations over nine months, the university relented and agreed for MD (Medicine) with urinary diseases. The name nephrology did not exist at that time. This resulted in the recognition of nephrology as a special subject and ushered in an era of modern medicine. He passed MD (Medicine) with urinary diseases in 1961 and became the first qualified nephroloigst of the country," he says.
Prof Chugh set up the first Department of Nephrology at the PGI in 1963. When asked whether he had something to convey to the medical fraternity, he said, "The real message is maintaining high standards of honesty, integrity and objectivity which are critical to scientific progress. Hiding or selectively reporting evidence and faking data thwarts scientific progress.
"And my second message is about the research being done in our country. Lot of it is a duplication of the work being done in advanced countries. Research of this kind never gets published and, therefore, much research remains unpublished."
Professor Chugh says because of commercialisation, ordinary people are losing faith in the medical profession. Doctors prescribe latest medicines and there is an indiscriminate use of advanced investigations, which puts a lot of financial burden on the patients. "Therefore, my advice to clinicians is that they should exercise a lot of restraint, that they should use a humanistic, judicious and rational approach."
Top News
45-50 people, including women and children, were on the bus
Another encounter at Moolu in the same district is in progre...
Appreciates India's humanitarian aid; Modi's 'this is no tim...
Police have described the suspect as being armed and dangero...
Person of interest in custody, 4 victims still missing